Election latest
By Messenger Staff
Tuesday, June 1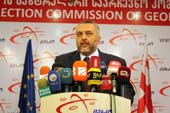 At 8 p.m. on Monday May 31 the Central Election Commission announced its final preliminary results of the elections for Tbilisi Mayor and various local councils throughout Georgia.
In the Mayoral election Irakli Alasania had received 85,858 votes (19%), Gogi Topadze 23,405 (5.01%), Gigi Ugulava 248,907 (55.02%), Zviad Dzidziguri 37,434 (8.3%), Giorgi Chanturia 48,220 (10.7%), Giorgi Lagidze 633 (0.14%), Tamaz Vashadze 2,984 (0.65%), Davit Iakobidze 989 (0.22%) and Nika Ivanishvili 2,308 (0.51%)
In the party list voting for Tbilisi City Council the Alliance for Georgia had received 18. 8%, Industry Will Save Georgia 6.4%, the United National Movement 52%, the Sportsmen's Union of Georgia 0.4%, the National Council 8.03%, the Radical Democrats 0.35% and the Christian Democrats 11.5%.
In the rest of Georgia the party totals were: Alliance for Georgia 17.1%, Industry Will Save Georgia 4.8%, United National Movement 62.8%, Sportsmen's Union of Georgia 0.14%, National Council 7.1%, Radical Democrats 0.21%, Christian Democrats 16.9%.
At 3 p.m. the Central Election Commission (CEC) had also reported that the National Movement and its candidates were leading. "We have already counted the votes from 1,249 precincts out of 3,694. At present the National Movement has 61.4% support throughout Georgia. As for the other parties or movements, the Alliance for Georgia has 12%, the Christian Democratic Movement 11.62%, the National Council 7.72%, Industry Will Save Georgia 5.01%, the Tortladze-Democratic Party 0.71%, The Freedom Party 0.35%, the Ivanishvili-Public Democrats 0.32%, Solidarity 0.26%, the Radical Democrats 0.23%, the Sportsmen's Coalition 0.16%, Future Georgia 0.05%, the Public Alliance 0.08%, and Our Country 0.04%," CEC Chair Zurab Kharatishvili said.
In the Tbilisi Mayoral elections Gigi Ugulava, the ruling party's candidate, was far ahead of his opponents. The CEC Chair stated that with 669 of the 779 precincts in Tbilisi counted, Ugulava had 54.6% of the vote, Irakli Alasania from the Alliance for Georgia 19.97%, Gia Chanturia from the Christian-Democratic Movement 10.42%, Zviad Dzidziguri from the National Council 8.26%, Gogi Topadze from Industry Will Save Georgia 5.26%, Tamaz Vashadze from Solidarity 0.65%, Nika Ivanishvili from the Ivanishvili-Public Democrats 0.52%, Davit Iakobidze from the Tortladze-Democrats 0.22% and Giorgi Laghidze from Future Georgia 0.21%.
With more than half the votes for the Tbilisi City Council elections counted, the National Movement led with about 50.5%, followed by the Alliance for Georgia with 18.5% and the Christian-Democratic Movement (CDM) with 12.5%.