President encourages Government members
By Salome Modebadze
Thursday, June 3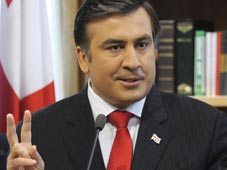 On June 2 President of Georgia Mikheil Saakashvili chaired the first Government session after the local elections. Saakashvili called on the Government to be more active and expressed the hopes that none of the its members would ask to go on holiday in the next two months so that it could keep all the promises given to the public and progress a number of reforms which are already underway.
"It's important that we undertake coordinated activities during this hard transitional period. Our main message to the public and to ourselves should be that we are not about elections and election campaigns, we are in charge of the country's development and advance. The next elections will not be held for at least two years, perhaps more, let's see what the new constitution says," Saakashvili said, telling his colleagues that they have plenty of time to introduce important reforms, as they have already been doing.
Stressing the importance of the encouraging evaluation of the election environment made by Anders Fogh Rasmussen, Secretary General of NATO, the President thanked all members of the United National Movement (UNM) for giving the public clear information about the policy of the ruling party in various fields. "The Secretary General of NATO called the elections free and fair. This is the estimation generally given to all the developed countries' democratic elections. Thus the position of the international organisations, and the Georgian public, is absolutely positive. We will now be able to attract the attention of many more investors and face the future with optimism," the President said, highlighting that the price of Geogian securities increased after the elections because investors had regained their trust in the country. "Those political parties who seek power definitely have different views to us on various issues but public disorder will become a thing of the past. Georgia will now have a period of stability and development but not calm, as the country needs rapid development," he added.
Ministers attending the session outlined the changes they plan to make in their respective areas of responsibility. Newly elected Mayor of Tbilisi Gigi Ugulava also gave details of changes he will make in the system for enumerating socially unprotected people which will be launched in June. "This is the one of the most burning issues for the public as some really poor families haven't been able to get on the list of unprotected people. There have been lots of problems as there have been limits on people having TV sets, washing mashines, etc but the Mayor's Office will actively engage the district authorities in this process in order to obtain full information about all families," Ugulava said, stressing that this system should become more flexible and ensure that all socially unprotected people are able to obtain their entitlements.