Georgian and Romanian leaders discuss economic cooperation
By Mzia Kupunia
Friday, June 4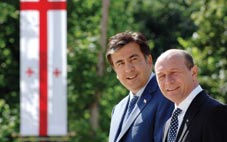 Georgian President Mikheil Saakashvili and his Romanian counterpart Traian Basescu have discussed issues of economic cooperation in Bucharest, including a new project to transport Azeri gas to Europe through Georgia. President Saakashvili assessed this project, which Georgia, Azerbaijan and Romania signed up to in May, as "important".
"The project which has been developed on the initiative of the Romanian President is very important for Europe in terms of energy security. Until now there has been a monopoly on energy transportation and we have been dependent on the major players in the market. In future energy will be more readily available. This project will get us quick results and be fulfilled faster than NABUCCO and the other ones," Mikheil Saakashvili said, adding that the project is "what Europe needs."
The new project involves transporting gas to Georgia's Black Sea coast, where a new plant will be built to turn natural gas into liquid. This liquid gas will then be transported to Romania in special tankers. It will then be reconstituted as natural gas and distributed throughout Europe. The project includes building a new terminal, presumably at Kulevi, and will cost about 4-6 billion euros.
The construction of the relevant terminals in Georgia and Romania will be completed in about 3 years. "This will create additional jobs in the country and increase the strategic meaning of Georgia for Europe," the Georgian President said.
The Presidents of the two countries also discussed political issues, including Georgia's NATO aspirations. Basescu said that Georgia might join the Alliance without needing to be granted a Membership Action Plan. "I would like to say also that the recognition of Kosovo cannot be a precedent for Georgia," he added. "The NATO summit is approaching and we understand Georgia's aspirations. Our position remains unchanged. We are sure that Georgia will eventually join NATO. We are not able to give the exact date, but Georgia's NATO integration is possible even without MAP," the Romanian President said.
Later Mikheil Saakashvili met the Chairmen of the two houses of the Romanian Parliament. The parliamentarians stressed the importance of Georgia not only for Romania but also for the whole EU. Saakashvili noted that Romania was the first country to recognise Georgia's independence. "The Georgian people will never forget this," he said at the meeting.