Christian Democrats agree with the Government
By Salome Modebadze
Friday, June 4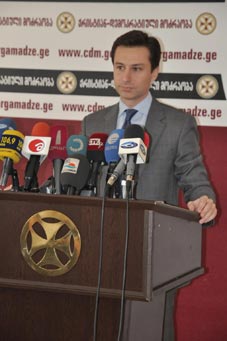 On June 3 the Christian-Democratic Movement (CDM) welcomed the Government's readiness to encourage small and medium-sized businesses by making amendments to the Tax Code. The CDM expressed its full support for this initiative and added its own suggestions.
"We have been informed by the Georgian authorities that they are ready to develop a new tax code by making revolutionary changes within the system," Giorgi Targamadze, leader of the CDM, told his colleagues at ae special briefing at the Parliament of Georgia, calling these changes positive simplifications of the code, which is vague at present. "Doing business has become a trial in Georgia, not just because of the strict tax system itself but the opaque tax code, which has been manipulated to serve the interests of the authorities. It is important to cure our ills by economic means," he explained, stressing that he thinks enterprises with up to 500,000 GEL, rather than the 200,000 GEL proposed by the Government, should receive tax privileges.
Targamadze highlighted the importance of promoting the economy as a means of encouraging social development. He said that a special body supporting small and medium-sized business development, a special fund and the introduction of a business incubation network will help new extrepreneurs obtain the relevant knowledge they need to take their first steps.
Inga Grigolia, member of the CDM, said that its new City Hall representatibve would demand that the communal tariffs be decreased as they promised during the election campaign. "We will try to make the Government listen to the people's problems. We received so many letters from people in need during the campaign that we will give them to Ugulava personally so that he will understand people's concerns," Grigolia said, adding that the CDM members will try to make the newly elected Chair of the City Council, Zaal Samadashvili, miss the days when he used to discussing the issues in his office all alone. Grigolia said they will cooperate with any of the other opposition members of the City Council (including the National Council) and the new Council will be as active as never before in discussing the problems of Tbilisi citizens.