Missing kidnap victim is major drug baron
By Salome Modebadze
Tuesday, June 8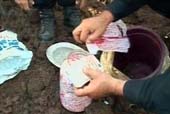 On June 7 the Ministry of Interior Affairs (MIA) of Georgia released details of a case in which members of a criminal racket demanded Euro 250,000 tried to extort Nugzar Bochorishvili, head of an international drug trafficking network in Georgia.
Grisha Komakhidze and Levan Gviniashvili, members of the so-called "Dolidze Brotherhood", kidnapped Nugzar Bochorishvili and his associate Giorgi Chechelashvili on January 13, 2010 with several other unidentified members of the gang who are still at large. Komakhidze and Gviniashvili knew that Bochorishvili was engaged in drug trafficking and thus demanded Euro 250,000 for keeping quiet about this in exchange for his life. They even burnt down his house in Kojori, near Tbilisi, in order to frighten him.
According to the investigation Borochishvili paid Komakhidze and Gviniashvili USD 10,000 and fled to Spain, claiming he would bring the rest of the money from there. In Spain Bochorishvili met so-called "thief-in-law" (legalised gangster) Shakro Kalashov, the major trafficker of cocaine to Europe through Georgia. With the help of Elguja Gurchiani Kalashov explained to the two kidnappers that he was personally responsible for all cocaine trafficking and told them to stop bothering Borochishvili, who has not been seen since.
The MIA says that bulletproof vests and arms were found at the homes of the two kidnappers. Komakhidze and Gviniashvili have been charged with threatening to murder Borochishvili, extortion and the illegal possession and use of firearms and if found guilty will be sentenced to 25 years in prison.
In a separate case a special operation conducted in Georgia last week identified Shakro Kalashov and Nugzar Bochorishvili as the leaders of a local drug cartel which smuggles drugs from South America to Europe via Georgia by hiding them in consignments of scrap metal. Both have already been tried and found guilty by a Georgian court. Kalashov denies the charge and his lawyer says he will appeal against his sentence. Bochorishvili, who like Kalashov was tried and sentenced in absentia, is now the subject of an international manhunt.
Shakro Kalashov will be extradited to Georgia from Spain when all procedures have been complied with. He has previously been sentenced to 7 years in prison and fined Euro 20 million for money laundering and released from custody by a Spanish Court. Kalashov was rearrested as soon as Georgia demanded his extradition.
Tinatin Burjaliani, the Deputy Minister of Justice of Georgia who accompanied the Georgian police delegation to Spain to investigate these cases, said that, "We have continual contact with our Spanish colleagues. The detainee has a legal right to use all means to avoid extradition but he is now in a Madrid jail. His extradition to Georgia is being discussed. As for Bochorishvili, it is difficult to say how long it will take to find him," Burjaliani said, adding that she found it difficult to give a particular date for Kalashov's extradition. It may take more than a month, as Kalashov is trying hard to prove his innocence.
Eka Zghuladze, Deputy Minister of Interior Affairs, added that the Georgian delegation was absolutely content with the results of negotiations with the Spanish authorities and expressed hope that Kalashov's extradition will take place in the near future.