Sarkozy receives Saakashvili in Paris
By Gvantsa Gabekhadze
Wednesady, June 9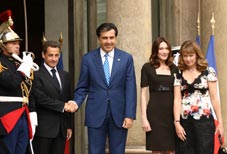 The first official meeting of Georgian and French Presidents was held on June 8, at the Elysee Palace. Presidents Saakashvili and Sarkozy discussed economic and political cooperation, the French-brokered August 12 ceasefire agreement and Russia's refusal to honour the terms of this agreement.
"It has been a very important and interesting meeting. The support of France is extremely important for us. I can say that Georgia has as an ally one of the most influential countries in European Union, which recognises our sovereignty and territorial integrity without precondition. We have discussed all serious issues related to Georgia, from the ceasefire agreement to Georgia's goals of joining NATO," President Saakashvili said after the meeting.
The meeting was held several days before Russian Prime Minister Vladimir Putin is due to visit France. Before his meeting with Nicolas Sarkozy Saakashvili gave an exclusive interview to French magazine Le Monde in which he talked about almost all the issues significant for Georgia and Georgian perspectives on Russia. "We are not going to have endless confrontation with Russia. We are not fools, and we know that having a hostile attitude towards that country is harmful to us first of all. Our nations have been connected for many years, we respect Russian culture. Having hostile relations with Russia is not in Georgia's interests," the President said, underlining that Russia's influence in the world is decreasing. "Despite the change of President in Ukraine and the Polish President's death Russia's sphere of influence is reducing. Has Russia succeeded in Kyrgyzstan? I do not think so. The situation in that country is extremely strained at present. Russia has pushed the countries of Central Asia but as a result no CIS mechanism now works. The only way Russia can overcome its problems is to modernise," Saakashvili said. He added that Georgia was not politically isolated. "We have active relations with, and are getting significant support from, our foreign allies and the leaders of the most influential states" Saakashvili said.
The European Union's support for Georgia is increasing, Georgian State Minister for European and Euro-Atlantic Integration Giorgi Baramidze, who is part of the Georgian delegation in France, stated on the same day. "The Georgian President and Government members have not conducted such serious meetings together before. This once more confirms the level of international support for Georgia. The EU's support is increasing and France's role in this is very significant," Baramidze said.
Analyst Ramaz Sakvarelidze told
The Messenger
, "This meeting in France can be considered significant for Georgia, as France is one of the leading countries in Europe and the European Union and has played significant role in keeping the peace in Georgia, so there is much to talk about. Economic collaboration with France is also very important. This visit might have two connotations, the first that Georgia is trying to show that it is not in political isolation and the second that it is trying to resolve the problems Georgia is facing at the present moment. However although the Georgian Government makes frequent foreign trips our delegations visit other countries much more often than theirs visit Georgia, indicating that our interest in other countries is much greater than other countries' interest in Georgia," Sakvarelidze said.
The Georgian delegation has also held meetings with other leading figures in France and is due to leave on June 10.