Saakashvili tells party to reform, reform, reform
By Salome Modebadze
Wednesday, June 16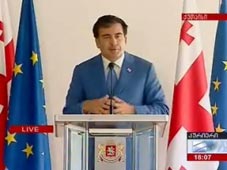 We don't want the development of Georgia to stop and our party [the United National Movement] is the only one which can ensure the continuation of this process by an even larger group of reformers, President of Georgia Mikheil Saakashvili told party members in Batumi on June 15. Saakashvili stressed that changes in the State Constitution will give all the responsible parties an opportunity to take part in the governing process but the ruling party has taken on a responsibility to the country and will not shirk from decision making.
"We have no right to decelerate the reform policy. Lots of things have changed in Georgia over the last few years, and the people have felt the effects of these changes and won't tolerate any regression. Our people have shown that they want an ideal Government. It is not utopian to think about creating a strong central Government controlled by the people. As soon as the speed of our success slows people start to express their discontent. Georgia will never again be a post-Soviet country but the most modern state in the region," Saakashvili said. He added that the Government of Georgia is not only concerned with election campaigns but the continuing campaign for Georgia's development. "Elections are just a periodic inspection of how we are fulfilling all the promises we have made concerning the development process. Thus we have been given even more responsibility after the elections [on May 30] and shouldn't slow down. We have a concrete programme – Georgia will either be very successful or not exist at all," Saakashvili said.
The President spoke of trends in modern political life, giving examples from different European and Asian countries. "Not even 7 years have passed since the United National Movement began to govern Georgia and they say this is too long a time, while one of the Japanese parties ran that country for 60 years and no one ever complained about a lack of democracy there. They can't reach our level, and want to overthrow us in spite of us reaching the same level," explained Saakashvili, encouraging people to realise that modern political life differs from the prehistoric system of statehood in which ancient people used to throw sticks and stones at others. "Let everyone understand what condition our country is in nowadays. I want you all to be familiar with the political, economic and international context. Our existence is under threat from our next-door neighbour, which has invaded one of the largest "rooms" of our "apartment" and has occupied the central corridor," Saakashvili said, referring to Russia. "The uncivilized Government of Russia has trespassed into our country without hiding its irritation at Georgia's success, wanting to turn us out of our "apartment" forever," he added, wondering whether we should start walking on four legs like them or carry on owning our own country.
After discussing internal issues such as the importance of the number of IDPs in the country and educational reforms the President of Georgia initiated the establishemt of a new union of countries which are aiming to integrate with Europe through the framework of the Eastern Partnership. "Georgia is politically in Europe but our model of development is like that of Singapore. We need to make continual progress, following Singapore's example. We are definitely larger compared to Russia than Singapore is to China, but although Mao Zedong was hostile to it, Singapore transformed from being an underdeveloped state to one of the leading countries in the world and has very intense cooperation with China nowadays," said Saakashvili, stressing that lots of Russians are visiting Georgia to familiarise themselves with the ongoing reforms here, signifying that even our enemies need a modern and successful Georgia.
Analysts have different opinions on the actual rate of development in Georgia but do not generally see it as encouraging. Economic analysts say that the country is in a difficult economic situation, lawyers stress that its legal system is far from meeting European standards while education experts regret that the rate of development of Georgian children has actually decreased over the last few years.
Political analyst Ramaz Sakvarelidze told
The Messenger
that, "The idea of the people participating in the governing process is expressed through holding referendums, which give people the authority to express their opinion on Government initiatives. But the people's opinion isn't always right. The results of referendums depend on people's mood, and thus they lead to short-term decisions being made which are seldom matched with long-term strategies for the country." He called the President's initiative to establish a new union of countries seeking integration with Europe an "interesting idea", but commented that "Any such union may have some propect of succeeding but I remember GUAM – a union based on common economic concerns which unfortunately were not enough to keep its members together. I would encourage the countries concerned to reestablish GUAM but ensure that this union will remain in place even if resisted by Russia," Sakvarelidze concluded.