Philip Gordon defends US-Russian relations
By Mzia Kupunia
Friday, June 18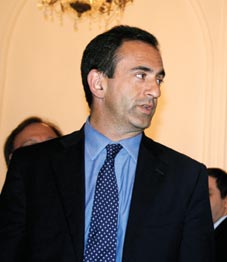 The US will not sacrifice the interests of Central European states or Georgia for the sake of improving relations with Russia, US Assistant Secretary of State for European and Eurasian Affairs Philip Gordon said on Wednesday, the Georgian media reported. Gordon was speaking at the German Marshall Fund of the United States in Washington.
People usually say that the United States has sacrificed the security of Central Europe, "our friendly state" of Georgia and human rights for the sake of relations with Russia, the US Assistant Secretary of State noted. "This is not correct," he stressed.
The United States is "satisfied" with recent progress in relations with Russia and hopes to continue holding productive bilateral dialogue on many issues,
RIA Novosti
quoted Gordon as saying. "I have to say there is a contrast with our ability to cooperate with Russia not just two or three years ago but even a year ago," he said, according to the news agency. Russia's vote in the UN Security Council in support of a new set of sanctions against Iran has demonstrated that Moscow and Washington are able to "effectively cooperate" in global affairs, the US Assistant Secretary of State said. "We have a common interest in dealing with Iran's nuclear programme – we think Russia shares that interest," he said, according to RIA Novosti. "Now is the best time to resolve the remaining controversial issues in bilateral relations and eliminate all possible misunderstanding in the dialogue between the two countries," Gordon stated.
Meanwhile the Georgian media has reported that US Secretary of State Hillary Clinton might visit Georgia early next month. The report is based on an interview by Latvian Prime Minister Valdis Dombrovskis in
The Washington Post
in which he says that during her Caucasus tour Clinton will also visit Georgia. "I was happy to hear at the meeting with Clinton on Tuesday about her planned visits to Armenia, Azerbaijan, Georgia and Ukraine," the Latvian PM told The Washington Post.
The Georgian Foreign Ministry has not made any official statement about the possible visit. The MFA Press Service says it has no information about the exact dates on which Clinton will visit Georgia. However Manana Manjgaladze, the Press Speaker of the Georgian President, informed the media about Clinton's possible visit in late May.
"Georgia and the US are strategic partners. Official visits are quite frequent between the two states. Many high profile officials have visited Georgia, so this visit is not excluded. However we will make an official statement on this when we have exact details," Manjgaladze told journalists on May 27.