German school opened in Tbilisi
By Messenger Staff
Friday, June 18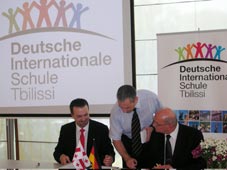 The German International School of Tbilisi was opened in Vake district on June 16. The ceremony was attended by Minister of Education and Science Dimitri Shashkin and German Ambassador to Georgia Ortwin Hennig.
Graduates of the German International School of Tbilisi will be granted a diploma which will give them the opportunity to continue their studies in European universities as in other countries.
To begin with a kindergarten, preparation courses and first form will be opened for both Georgian and foreign children. Specially invited teachers from Germany will conduct lessons at the school; subjects such as Georgian language, literature and history will be taught in Georgian and children will also be taught English from their arrival.
The German language is spoken by more than 100 million people. Of the half billion population of Europe, every fifth person speaks German.