We're not disbanding, National Council says
By Gvantsa Gabekhadze
Monday, June 21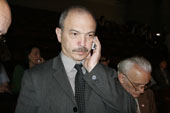 Unlike the Alliance for Georgia the National Council will not disband and intends to expand its membership, Petre Mamradze from the Movement for Fair Georgia, part of the National Council, told
The Messenger
on June 20.
The National Council formed during the election campaign and has been criticised by the authorities and other opposition parties for its pro-Russian ideology, largely due to the frequent trips to Moscow of Movement for Fair Georgia head Zurab Noghaideli, the former Prime Minister. After the elections the Georgian media reported that the Council had disbanded, but "I categorically deny this. Anyone who knows a bit about Georgian law will understand that a bloc formed to fight elections automatically dissolves after the elections, but we remain a union based on common values which will fight for the Georgian people's prosperity. Perhaps our name will be changed, we will know later. We are not thinking about dissolving ourselves, on the contrary, our aim is to expand, which is why Zurab Noghaideli, Irakli Okruashvili (former Defence Minister exiled in France) and Levan Gachechiladze (leader of Defend Georgia) were holding negotiations in Germany," Mamradze told us.
Noghaideli, who has returned to the country, said of these talks, "Opposition unity is very much needed, but at the same time we should explain to Georgians that our aim is not only Saakashvili's replacement. Of course this is one of our main goals, but the most important thing is to rescue Georgia from the crisis it is facing now. The unification which I, Irakli Okruashvili and Levan Gachechiladze discussed in Munich will be based on principles and not be a simple coalition of certain parties," Noghaideli said. However, he did not specify when this coalition would be formed and who would be the members of it.
"After the outcome of the local elections I can see no alternative but street action. I have never seen a Government of Georgia replaced by means of elections. Collaboration with Ugulava is politically and morally unacceptable," Goga Khaindrava from Defend Georgia has stated. However collaboration with the proposed coalition is unacceptable for the Republicans, who were part of the Alliance for Georgia. "I can see that this union will definitely be pro-Russian. There are parties in the country with a pro-Russian ideology, who reflect the views of a certain part of society. We cannot call them traitors, but we exclude collaboration with them," Levan Berdzenishvili said.
Analyst Nika Chitadze hopes that the National Council and the similar alliances will not achieve any success. "The National Council contains destructive parties and politicians, that is why I hope that similar coalitions will never gain the support of the Georgian people. There is a real opposition in the country, like the members of the former Alliance for Georgia, and I would welcome some strong politicians from real and not destructive parties creating some party or bloc for the next Parliamentary elections," Chitadze said. He added that, "Alasania's party itself, Our Georgia- Free Democrats, has achieved significant success, despite it being only a year since it was founded. It has a very interesting programme and if it continues working on some projects connected with the Parliamentary elections it will become more popular. The significant difference in the votes gained by the governing party and the opposition group in second place might be explained in several ways. First, Alasania's team was newly created, second, the Government prepared seriously for the elections and third, only 50% of Georgian voters participated in the elections, which cannot be considered a high percentage," Chitadze said.