Georgia makes wine feel at home
By Gvantsa Gabekhadze
Tuesday, June 22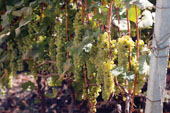 The 33rd International Congress of Wine and Vine, under the slogan Touch the History, opened at the Rustaveli Theatre on June 21. The OIV (International Organisation of Wine and Vine) Chairs, more than 200 delegates from 55 foreign countries, Georgian officials and other invited guests are attending.
The Congress was opened by President of Georgia Mikheil Saakashvili, who reviewed the history of Georgian wine and the activities undertaken by the Georgian business sector and authorities to popularise Georgian wine culture.
"There are two ways wine production can be killed. One was used by Shah Abbas, when he ordered the destruction of vine, and the second and more modern means by Vladimir Putin, who firstly made Georgian wine dependent on the Russian market and then suddenly prohibited it. But while Russia has imposed an embargo on Georgian products, on the ground floor of the President's residence in Russia the authorities and their guests still drink Georgian wine. It remains the favourite drink of the Russian elite. The Russian authorities prohibit their people from drinking Georgian wine but haven't given it up themselves, even for a day. At the same time the Russian embargo has done a very good thing for us, as Georgian wine is becoming more and more familiar to other foreign countries," Saakashvili stated.
The President also announced a new initiative. "We are starting a new programme this year in which 100 agronomists each year will be trained in English and sent abroad to learn modern agricultural techniques, become acquainted with modern achievements and then share their knowledge with Georgian farmers," the President stated.
Minister of Agriculture Bakur Kvezereli told
The Messenger
, "It is very important that such a significant congress is taking place in Georgia. It will greatly increase the interest in Georgian wine and we are waiting for this interest to be positively reflected in sales and exports to foreign markets. The Government is working to attract foreign investment in this sphere," Kvezereli said.
Director General of OIV Federico Castellucci told
The Messenger
, "Georgia has the means to achieve significant success in this field, as many countries produce wine but few have original strains of vine like Saperavi. This Congress is a very important for me, as it will enable me to get to know Georgian viniculture and different Georgian wines better." President of OIV Yves Bernard added, "many countries wanted to host this congress, but we have our own criterion of selection. Only countries with winemaking traditions and native vines are given this chance. I have already tasted Georgian red and white wines and I am glad that over the next four days we will share our experience wlth Georgians and get to know the Georgian wine sector better."
Analyst Gia Khukhashvili told
The Messenger
, "This congress can be considered important as this market is quite specific, meaning that supply exceeds demand and such meetings increase the popularisation of Georgian wine. However, no significant change in the Georgian wine industry is expected after the congress." He also commented on the President's statement about the positive aspects of the Russian embargo. "Selling a setback as a success has become a mania with the present Government. How can an embargo have any positive side? The result of this embargo is that every year since Russian market was closed, Georgia has had a Soviet-type vintage in which the authorities have processed the harvest. The main problem Georgian farmers have is the non-existence of markets where they can sell their production," Khukhashvili said.
Congress will be concluded on June 25.