Orphanage building reopened thanks to Japan
By Messenger Staff
Tuesday, June 22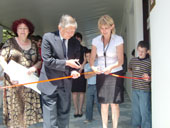 On 21 June the opening ceremony of the project for the rehabilitation of the second building of the regional orphanage in Saguramo village in Mtskheta, implemented within the framework of the Grassroots and Human Security Grant Assistance Programme of the Government of Japan, was held. The ceremony was attended by H.E. Mr. Masayoshi Kamohara, Ambassador Extraordinary and Plenipotentiary of Japan to Georgia, representatives of central and local government and members of related organisations.
The grant contract for the abovementioned project was concluded between the Embassy of Japan and the NGO Momavali on 26 November 2009. The aim of the project is to improve the living condition of the orphans through rehabilitating the second building of the orphanage. It is expected that about 260 children will directly benefit from the said project, which is worth 88,700 USD.
"I am delighted to know that this project contributes to improving the living and study conditions of 60 socially unprotected children. I am happy to say that through successful cooperation with the NGO Momavali we have implemented three projects in total to support vulnerable children in Georgia," the Ambassador said.
"I am informed that there are more than 150 socially unprotected children in Mtskheta-Mtianeti region, who live without their families for various reasons. Many of them cannot get enough care from society and have to live in hard conditions. I have seen many smiling faces on the children here today and I am assured that our assistance may bring these children the hope of a bright future. I hear that the distinguished intellectual Ilia Chavchavadze had a particular connection with Saguramo village. I hope that the children of Saguramo will grow to become as talented as Ilia Chavchavadze and contribute to the future of Georgia."
Grassroots and Human Security Grant Assistance Programme grants are provided to relatively small-scale projects undertaken by municipalities, medical institutions, academic institutes and NGOs which aim directly at the improvement of the living standards of Georgian people suffering from hardship. Such projects might be implemented in the fields of public health, medicine, elementary and secondary education, social protection and environment, poverty reduction and increase of incomes. This grant programme began in 1998 and so far 94 projects, worth 6,987,354 USD, have been implemented under this programme in Georgia. Japan's total Official Development Assistance to Georgia amounts to 342.9 million USD and covers a wide range of areas such as the improvement of the economic infrastructure and the agricultural and social sectors, the cultural field and human resource development.