We are more opposition than you, say various parties
By Gvantsa Gabekhadze
Wednesday, June 23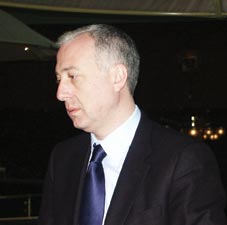 Revanchists such as Nino Burjanadze and Zurab Noghaideli do not create any threat to Georgia's statehood, leader of the New Rights, Davit Gamkrelidze said on June 22, while outlining the mistakes made by the Alliance for Georgia and his party's future plans.
"Those former Government members, I mean Nino Burjanadze, Zurab Noghaideli and others, are more interested in revanchism than the national interest. They are ready to remove the present Government by any means necessary, but I think they do not create any danger for Georgia as they are not supported by the Georgian people and this was the main reason they did not participate in the local elections. Those I have just named, in addition to Irakli Okruashvili (the exiled former Defence Minister) have played a significant role in the legitimisation of Saakashvili's regime," Gamkrelidze said.
Gamkrelidze said that the new coalition being formed on Noghaideli and Okruashvili's initiative seems to be revanchist as well and he excluded cooperating with it. "We united in the Alliance for Georgia, which chose the correct way to fight, through elections. However we wasted too much time consulting with other opposition parties and this negatively affected our plans. At present we are not intending to join any alliance and will contest the Parliamentary elections as a distinct party. At present the public want small parties and not broad alliances or coalitions. Georgian society was not ready for the Alliance and perceived it as the Republicans and New Rights, which have little public support, trying to gain it on the back of Irakli Alasania," Gamkrelidze said.
Gamkrelidze is also sceptical about the idea of establishing a Public Council and will refuse to take part in any street rallies certain opposition parties are threatening to organise in autumn. "I do not know what kind of rallies they will be, but the New Rights will not participate in street rallies planned by others," he said. He also underlined that "those opposition politicians who won seats at the City Hall elections should use all legal means of achieving the adoption of positive decisions."
Movement for Fair Georgia leader Zurab Noghaideli responded to Gamkrelidze the same day. "There are no politicians or parties which have not been connected to the present Government in some way. They have also taken money from the Government and cannot claim otherwise. If the Alliance and National Council had united this would have been the beginning of the Saakashvili regime's destruction. The Alliance for Georgia destroyed any possibility of this," Noghaideli said.
The former Prime Minister said that street rallies and demonstrations cannot be excluded as a means of removing the present authorities. "It is too early to talk about some kind of unification, we are just holding negotiations. If this coalition is formed its main goal will be to force snap elections. We will fight for this, but we must avoid creating any kind of confrontation in society. We need to adopt an appropriate policy to ensure this happens and should work in this direction. Street rallies and manifestations cannot be excluded however," Noghaideli stated.