We are like Singapore and Hong Kong, Saakashvili tells World Bank
By Salome Modebadze
Wednesday, June 23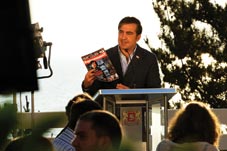 President of Georgia Mikheil Saakashvili gave details of the ongoing reforms in Georgia to World Bank officials at the Bank's regional meeting in Adjara on June 21. He welcomed the fact that the World Bank had started openly talking about a 'Georgian phenomenon'. "The country which was forecast to suffer economic collapse and civil confrontation continues to develop and may reach the level of Dubai in 5-7 years if it continues growing at such a dynamic speed," the President stated.
"On the one hand we are a country which has incredible poverty... and on the other hand, here is the leading Ukrainian magazine
Korrespondent
[showing one of its recent issues] which has a cover story about the Georgian miracle... 'Georgian youth turns the country into Singapore and Hong Kong' - these are not my words, this is [the magazine's] enthusiastic story about Georgia," the President said.
"It's a fact that we are supported by the poor members of our nation, who trust in the eventual success of our reforms. This all has been achieved despite great public opposition, but we never set out to be popular. Popularity is like a currency, which you get and then use to conduct reforms followed by elections. This social transformation applies to everyone, though there are still people who don't like us and our reforms," Saakashvili said.
The President cited the example of young Georgian tourists dreaming about European resorts who had encouraged the President to use public money in a wiser way instead of establishing new projects. "When I asked these guys why they were discontented they accused me of taking their dignity from them. This means these are people who have no idea what they want for themselves. They seem to miss the time when they used to gain money through corruption. The educated people support our reforms – all the clever people have guessed that they will have to get used to a new life and abide by the rules of a game based on talent and professionalism. Education should take us out of poverty in both the cities and villages, thus all we do serves people, improving their self-confidence and contentment," concluded the President.