Preserving the past, serving the future
By Salome Modebadze
Wednesday, June 23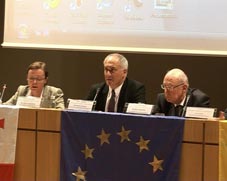 On June 22 the Georgian National Museum (GNM) presented the twinning project "Support for the Institutional Development of the Georgian National Museum" funded by the European Union (EU). "Museums are very important institutions in the international community and cultural heritage gives us a global understanding of who we are and where we came from. I'm very pleased to support the GNM through this project, as the museum has considerable scope to develop further. Adopting modern museum standards here will also make Europe understand where Georgia has come from and help it share Georgia's cultural heritage with the rest of the world. So I think promoting Georgia in Europe and Europe in Georgia will be helped by this sort of cooperation," Per Eklund, Ambassador and Head of the EU Delegation to Georgia, told
The Messenger
.
The twinning project aims to support the efforts of European neighbourhood countries to harmonise their regulations with EU standards in fields such as agriculture, trade, transport, civil aviation, border protection, etc. This is the first twinning project in the cultural sector, and the GNM as the beneficiary is partnered with the Prussian Cultural Heritage Foundation and the German National Museum in Berlin.
Davit Lortkipanidze, General Director of the GNM, called the day "historic", deserving of a traditional Georgian toast. "The project has significant importance for us as one of the greatest cultural institutions in Europe, with huge experience, has become our partner. It is interesting to note that Germany faced the same problems we do when the country was divided into two parts and the West German authorities expected East Germany to do things the Western way. The two-year project seeks to help the GNM adopt Western standards as the further step in the ongoing reforms within the institution," Lortkipanidze said, stressing that the ultimate goal of the project will be the establishment of the 'Museum Street' development project which will utilise the experience of Germany.
The project will systematically introduce best practice into the work of the Georgian National Museum, particularly in the fields of building planning, collection removal and restoration and conservation. The project is unique as it involves cooperation between the two cultural facilities of international importance.
Hermann Parzinger, President of the Foundation for Prussian Cultural Heritage, told
The Messenger
, "We have the same issues to address in Berlin. The museums have been restored but some still need restoring, while new buildings are being reshaped so that their architectural centres will be places of culture, science and education. In the context of this larger process we are continuing to work on this project until the middle of the 2020ies." Parzinger stressed that adopting comprehensive restoration-conservation standards is a model Georgia should follow in its own National Museum. "We can help you change. We will of course learn from you, as you have a particular situation in your country, but you cannot directly compare the places – Tbilisi and Berlin have similar problems but different conditions. So I think it's very interesting to agree on broad cooperation in this sense. The project should run for about two years but it will be the beginning of a long lasting partnership, because after that you will be able to hold exhibitions and put together research projects, not just street projects, in very close partnership with our museum and country," he added.