Obama-Medvedev to discuss Georgia, US officials say
By Mzia Kupunia
Thursday, June 24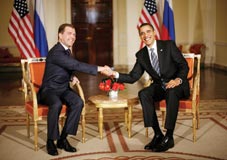 The United States' aim is to persuade Russia to withdraw its troops from Abkhazia and South Ossetia, Mike McFaul, US President Barack Obama's adviser on Russia and Central Asian Affairs, said ahead of the meeting of the Russian and the US Presidents in Washington, the Georgian media has reported based on
Itar Tass
news agency information.
The Obama Administration is planning to discuss the actions of Moscow in Abkhazia and South Ossetia, McFaul said, adding that the US is interested in seeing stability in the region, expanding the monitoring mission there and ensuring the transparency of what Russia is doing in the two breakaway regions, McFaul said, according to
Interpressnews
.
McFaul noted that the US has multi-level relations with Georgia and offers "big projects" of assistance to the country. "We are ready to explain to Russia the aims that we are pursuing in Georgia,"
RIA Novosti
quoted the US President's adviser as saying. Talking about the agenda of the meeting of the two Presidents, he said that relations between the US and Russia should not be confined only to joint work on proliferation issue. "We have probably already reached such a level [in relations] by showing the ability to agree on such complicated issues as Iran and North Korea," McFaul noted. "However Thursday's meeting of the two leaders should advance and deepen our relations in many directions," he added, according to RIA Novosti. McFaul said that the two Presidents will discuss a wide range of problems during the meeting – from security issues to sport, healthcare and civil society.
The disagreement between Washington and Moscow over Georgia will not prevent the two countries resolving essential problems, said Ben Rhodes, Deputy National Security Advisor for Strategic Communications. "Yes, we have a disagreement with Russia over Georgia, we support the sovereignty and territorial integrity of all neighbouring states of Russia, but we [the USA and Russia] can cooperate in the spheres of equal interest to both sides," Rhodes added.
Russian President Dmitry Medvedev started his visit to the US in Silicon Valley and later gave a speech at Stanford University. As for the Thursday meeting agenda, the US and Russian Presidents will hold a bilateral meeting in the morning and larger talks with their national security teams later. Obama and Medvedev will visit the Chamber of Commerce in Washington and release the first annual report on the bi-national Presidential Commission as well.
The statements of the US officials ahead of the Obama-Medvedev meeting indicate that the US has a clearly defined approach to Georgia, which is that it supports Georgia's territorial integrity and sovereignty and the deployment of Russia's occupation forces on Georgia's territories is a violation of international norms, Deputy Georgian Foreign Minister Alexander Nalbandov has said. "McFaul has clearly expressed the attitude of the US Administration that the US will do its best to convince Russia to withdraw its troops from Georgia's occupied regions," Nalbandov told
The Messenger
. "It is very hard to make concrete predictions right now about the results of the Obama-Medvedev meeting, however it is very important that the issue of Georgia will be discussed in the abovementioned context at the meeting," he added.