Sheraton enters Batumi
By Messenger Staff
Thursday, June 24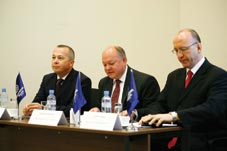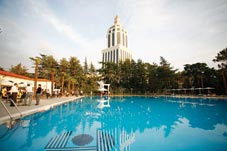 A group of journalists, celebrities and members of the public were invited to take part in the Sheraton Journey from Tbilisi to Batumi last weekend which culminated in the opening ceremony of the new Sheraton hotel in the resort city.
Klaus Brandstetter, Sheraton owner Starwood Hotel Group's General Manager for Hotel Openings in East and Central Europe, said that the 203-room Sheraton Hotel is the first internationally branded hotel in the "emerging Black Sea destination" of Batumi and the second Sheraton in Georgia, the other being the Sheraton Metechi Palace in Tbilisi. Located just minutes from the centre of Batumi and within easy reach of the international airport, the white lighthouse tower of the Sheraton Batumi Hotel has already became a landmark in the city.
Omer Subasi, General Manager of the hotel itself, said that it had been designed to appeal to both business and leisure travellers. It features 43 suites, including one penthouse with a breathtaking view of the Black Sea. It includes the 'Sunflower' all-day restaurant on the ground floor and the 'Veronica' lounge restaurant and bar with stunning views of the Batumi skyline. It also boasts its own night club, 'Caladium'. Its ballroom is the largest in Batumi at 1,000 square metres and is ideal for weddings or corporate events. For smaller meetings and conferences the hotel has six other state-of-the-art meeting rooms and a fully equipped business centre. Leisure amenities include a 750-square metre Shine Spa, indoor and outdoor swimming pools and a state-of-the art fitness centre, run in partnership with Core Performance, an organisation which trains elite athletes and Olympians. An independently operated casino with its own dedicated entrance can be found on the ground floor.
The seaside resort city of Batumi is Georgia's main port, located near the Turkish border at the terminus of both railway and pipelines originating in the Caucasus states. In recent years, the city has become a regional centre for investment and development. In addition to a boom in its freight handling and manufacturing capabilities, Batumi is also host to a growing number of cruise ships which have included the destination in their Black Sea itineraries. Batumi boasts a sub-tropical climate and wide beachfront and is known for its coffee mills, magnolia blossoms, fruit and fish markets.