We can't improve relations while Saakashvili runs Georgia, says Medvedev
By Mzia Kupunia
Friday, June 25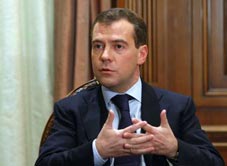 The regulation of relations between Georgia and Russia will only be possible after the Government of Georgia is changed, Russian President Dmitry Medvedev has said during a speech at Stanford University. "As soon as Georgia has a new leadership I am sure there will be a possibility to improve the relations between Tbilisi and Moscow," Medvedev noted.
The Russian President also touched on the issue of Georgia's breakaway regions. "There can be different approaches to the territories which have declared independence. Some might say that these territories are part of Georgia and they should return to Georgia's jurisdiction, but there is also a different approach, which states that after the international recognition of these two territories they have received the right to be treated as internationally accepted countries," he said, adding that there have been "many examples" of such processes in the history of mankind.
Currently relations between Georgia and Russia are "dramatically bad", the Russian President said in his speech, while adding that "this is not Russia's fault." "We think the Russian Federation was defending the interests of its citizens and its country [in August 2008]. Unfortunately this has led to very unfortunate results, but I want our relations with Georgia to get back to normal, and moreover I am absolutely sure that this will happen, simply because neighbours which have had good relations for centuries have no other option," Medvedev said. "It is just a matter of time, however I do not see a chance of it happening under Georgia's current President, because I think he did wrong. Speaking in juridical terms, he committed a crime," the Russian President added.
Georgian Foreign Minister, Grigol Vashadze commented on Medvedev's statements by saying that "since 1991 Russia has not found an administration in Georgia acceptable for it." "This is not about the administration not being acceptable to Moscow, the issue is that an independent Georgia with its own statehood is not acceptable for The Kremlin," the Georgian Foreign Minister said. He noted that any administration will be unacceptable for Russia for as long as Georgia is an independent and sovereign state. "I think Georgia will never have a Government which will tell Russia that Georgia should not be an independent and sovereign state," the Minister said.
Vashadze expressed his contentment with the information released by US officials that Georgia will be one of the issues discussed during the Medvedev-Obama meeting in Washington. "The United States and Europe have never taken Georgia off their priorities list," the Foreign Minister said, adding that resolving the issue of Georgia's breakaway regions is "very important" for the West. "The problem called 'instability in the region' should be resolved for good, however we should understand that this will not happen by waving a magic wand. Consistent, well-thought out steps should be taken, and today's meeting, after which relevant statements will probably be made by President Obama, will be an indication of whether this is happening," Vashadze told journalists.
It is very important for the Georgian Government that Georgia is discussed at the meeting between the US and Russian Presidents, Georgian Reintegration Minister, Temur Iakobashvili said. "It is very important that the issues related to Georgia be discussed during any negotiations with Russia. It is necessary for Russia to understand that nobody is going to recognise the Tskhinvali region and Abkhazia as either independent states or Russian territories," the Minister said, adding that "Russia should feel this discomfort until it ceases its occupation of Georgia."