Japan helps kindergarten for the deaf
By Messenger Staff
Wednesday, June 30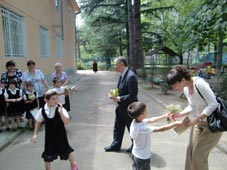 On June 28, the opening ceremony of the Project for the Rehabilitation of the Kindergarten for Deaf Children in Tbilisi, which has been implemented as part of the "Grassroots and Human Security Grant Assistance Programme" of the Government of Japan, was held. It was attended by H.E. Mr. Masayoshi Kamohara, Ambassador Extraordinary and Plenipotentiary of Japan to Georgia, representatives of the local authority and members of related organisations.
"I understand that 180 children with and without hearing difficulties are studying together in this kindergarten. I believe that integration between ordinary and handicapped children contributes greatly to the improvement of society, and this is recognised as a basic principle of social welfare worldwide. I am delighted that the implementation of this project by our Embassy could lead to putting this principle into practice and making a positive impact on Georgian society," the Ambassador said.
"Actually, this is not the first time our Embassy has cooperated with the Tbilisi Kindergarten for Deaf Children. In 2007 we provided this kindergarten with hearing training equipment. Today I saw how carefully the equipment was treated by the Kindergarten's staff and I am assured that this newly-rehabilitated building will be used as carefully as the hearing training equipment," he added.
The grant contract of the above-mentioned project was concluded on 26 November 2009 between the Embassy of Japan and Tbilisi Kindergarten for Deaf Children. The aim of the project is to improve the living and learning conditions of the children through rehabilitating the roof and classrooms of the kindergarten. It is expected that about 180 children will directly benefit from the said project. The scale of the project this time is 84,959 USD.
Grassroots and Human Security Grant Assistance Programme grants are provided to relatively small-scale projects undertaken by municipalities, medical institutions, academic institutions and NGOs which aim directly at the improvement of living standards of Georgian people suffering from hardship. Such projects might be implemented in the fields of public health, medicine, elementary and secondary education, social and environmental protection, poverty reduction and increase of incomes. This grant programme began in 1998. So far 94 projects which amount to 6,987,354 USD have been implemented under this programme in Georgia. The total amount of Japan's Official Development Assistance to Georgia is more than 361,3 million USD, covering a wide range of areas such as improvement of the economic infrastructure, the agricultural sector, social sector and cultural field and human resource development.