Georgian Foreign Ministry hails Romania's resolution on Georgia
By Mzia Kupunia
Wednesday, June 30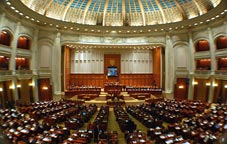 The Georgian Foreign Ministry welcomed the resolution by the Romanian Senate "on the situation in Georgia" adopted on June 28. The Foreign Ministry reported that the resolution "confirms" its support for Georgia's territorial integrity and "recognises" Abkhazia and South Ossetia as "integral parts" of Georgia's territory.
"The resolution condemns the recognition of Georgia's separatist regions as independent states by some countries," the MFA statement reads. "In this context the Romanian Senate stresses the necessity of fully respecting the August 12, 2008 6-point ceasefire agreement commitments," it continues.
The resolution says that the Romanian Senate supports the Georgian Government's strategy towards its "occupied" regions and "condemns the continuation of the policy aimed at changing the ethnic component in the two separatist regions," the Georgian Ministry said.
In the resolution the Romanian Senate called on the Romanian Government to "intensify" bilateral and multilateral regional cooperation to "prepare" Georgia for European and Euro Atlantic integration and ensure the continuation of the participation of the Romanian representation in the EU Monitoring Mission. The resolution also called on the Government to continue cooperating with Georgia in the energy sphere. The Georgian Foreign Ministry said in its statement that it "expresses gratitude to the Romanian people and Government, and especially the Romanian Senate, for their active support of Georgia's sovereignty and territorial integrity."
Earlier in June Lithuania's Parliament, the Seimas, also adopted a resolution supporting Georgia's sovereignty and territorial integrity and condemning Russia's "aggression" and occupation" of Georgia's breakaway regions. Its authors of the resolution wrote that the way to resolve the conflicts is to introduce self-governance and autonomy models in the breakaway regions acceptable to the local population and permissible under the Georgian constitution.
The Georgian Foreign Minister, Grigol Vashadze has assessed the recognition of Georgia's breakaway regions of Abkhazia and South Ossetia as "occupied" territories as an "important fact". "Lithuania was the first European state to adopt such a document and I promise that the Parliaments of many other states and the European Parliament will adopt one as well," he noted. "What Russia calls 'independent states' are considered occupied regions by the international community. Once The Kremlin called Afghanistan and the German Democratic Republic independent states in the same way," the Georgian Minister said.
Some Georgian analysts suggest that from "old Europe" Georgia will get only "verbal support". "States like Romania or Poland are "new Europe" so the resolutions adopted by their Parliaments in support of Georgia are understandable, but we should not expect the adoption of these kinds of resolutions from the founders of the European Union, France, Germany and Italy, because making these kinds of gestures to us is not in their interests," analyst Soso Tsintsadze noted.