New Ministers commit to Georgia Without Poverty
By Gvantsa Gabekhadze
Thursday, July 1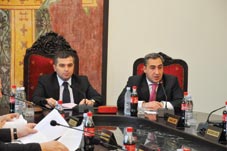 The Georgian Parliament will confirm the composition of the reshuffled Cabinet on Friday, Prime Minister Nika Gilauri announced at the Parliamentary Bureau session on June 30, at which he presented the proposed new members of the Cabinet.
Gilauri said that the motto of the new Government programme would be Georgia Without Poverty and that the new Ministers will have to work in this direction. "We have made a significant advance in economics, overcoming difficulties, and our development is ongoing. Our programme will concentrate on creating jobs and I am sure we will defeat the unemployment problem as well," Gilauri stated, declaring his trust in the new Ministers.
Lado Vardezlashvili will be the new Minister of Sport and Youth Affairs, Vera Kobalia the Minister of Economics and Sustainable Development and Ramaz Nikoleishvili the Minister of Regional Management and Infrastructure. The new Ministers presented their work plans to Parliament. "I will concentrate of creating jobs and developing small business and tourism, these will be the priorities of my Ministry," Kobalia said. She also mentioned that despite her young age, she has serious professional experience as for ten years she has worked in import-export in the United States and China. Nikolaishvili said that his new post was a great responsibility but he was ready to do his best to ensure the Georgian people's prosperity.
Opposition parties have criticised the Government changes and not hidden their doubts about the competency of the new Ministers. "I am interested in who will really run the Ministry of Economics and Sustainable Development, Vera Kobalia or Nika Gilauri. She started to gain experience in the economic sector only in 2005, and in the present conditions, when it is hard even for rich countries to attract investments, who is taking responsibility for the Georgian Ministry of Economics?" Vice Parliament Speaker, Paata Davitaia, said. "These changes in the Cabinet are not designed to promote for Georgia's development and advancement but the advancement of some political figures," Levan Vephkhvadze from the Christian-Democratic Movement stated.
Georgian analysts consider the changes pointless. "There was no need to divide some of the Ministries when we already have too many for a country the size of Georgia. I will say just one thing, that the creation of the Ministry of Sports and Youth Affairs reminds me of my childhood, the Soviet regime and membership of the Young Communists League. It seems this system has been reinytroduced by the present authorities for one reason: as the youth is most subject to influence, the present Government is trying its best to exert more influence on them," Gia Khukhashvili told
The Messenger
.