MobiPay will change your life
By Messenger Staff
Monday, July 5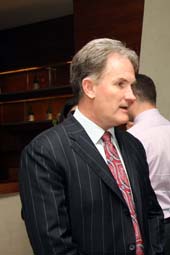 On July 1 Open Revolution and Geocell announced the ultimate innovative mobile payment method - MobiPay, which allows you to make purchases, bill payments and person to person money transfers much more easily, more quickly, more safely and more conveniently by mobile phone.
Allen Gilstrap, CEO of Open Revolution LLC and Open Revolution Georgia JSC, said that MobiPay/Geocell expressed its gratitude to all its financial and commercial partners, expressing his special appreciation of Osman Turan and their partners at Geocell, with whom they have a shared vision.
Gilstrap said that members of the Open Revolution team have spent the last three years researching the product and consulting with leaders who are developing or who have delivered mobile financial services in 54 countries in Africa, Asia and Europe. This global experience combined with the executive team's extensive payment network experience with organisations like American Express and VISA were used in the design and creation of MobiPay.
"When the public hears about mobile financial services, which are sometimes called mobile banking, most think about what we call "additive" mobile financial services in which a bank simply creates a new channel for delivering financial services to its existing customers," Gilstrap stated. "The MobiPay services that we will be launching in Georgia and 13 other countries are called "transformative" and will transform the way consumers and merchants make payments, transfer money and pay bills. It will enable the delivery of financial services to remote parts of Georgia that are difficult to serve," he added.
MobiPay is a service unique in both Georgia and the world. It will leverage the strength of the leading mobile network operator, Geocell, multiple innovative banks and microfinance institutions and border-to-border merchants including Wissol, PSP and Populi. Open Revolution's task is to secure merchant payment acceptance wherever Georgian consumers want to use MobiPay. A great example is the Toyota Cab Company, in which consumers can pay for taxis by mobile phone. It has an extensive cash agent network, and in the months ahead you will see the MobiPay Cash Agent sign at several hundred locations across Georgia.