New Ministers, new programme, same Government
By Salome Modebadze
Monday, July 5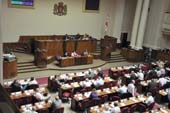 On July 2 five hours of Parliamentary debate confirmed the Ministerial changes announced earlier in the week.
Veronika Kobalia was appointed Minister of Economy and Sustainable Development. Promoting Kobalia's candidacy, Prime Minister Nika Gilauri thanked former Minister Zurab Pololikashvili for his work and hoped that the new Minister would be there for longer. "The Ministry has seen several Ministers over the last few years but the country has still achieved much in the economic field. Two issues which need to be dealt with now are the flow of investment and the speed of privatisation, and these are the issues the revamped Ministry will concentrate on," said the PM. He stressed that Kobalia's successful business experience abroad will be a sound basis on which she will build cooperation with investors.
"If we don't want to become tourists in our own homeland and give the occupiers the opportunity to rule our country, we first have to build up our economy and develop our country through intensive work," Kobalia said, introducing her programme to the media. "The main priority remains employment, and we have to develop our agricultural sector, because 25% of our population is employed in this sector," she added. Prior to the following day's Cabinet meeting Kobalia told the media that a lot remains to be done in a short time but with hard work Georgia can develop its economy and become Europe's Singapore, which can be achieved quite soon.
Ramaz Nikolaishvili has been appointed the new Minister of Regional Development and Infrastructure, and this Ministry has an important role to play in the country, said Gilauri, wishing the new Minister success. Nikolaishvili has replaced Davit Tkeshelashvili (now head of President Saakashvili's Administration), and called his appointment a great challenge, hoping he would receive the support of colleagues.
Lado Vardzelashvili will lead the new Youth and Sport Ministry, which was broken off from the Ministry of Culture and Monument Protection a few days ago. "It was a clever decisison to turn this department into a self-contained Ministry. Lado Vardzelashvili had previously been head of the old department and I know he is well acquainted with all the problems in this field. He has done lots of good things and I'm sure we will do more together," Gilauri said. "Lots of the department's achievements are down to you so I am not going to make staff changes. The most important thing for us is to create a strong structure which conducts appropriate policy," Vardzelashvili said, thanking the President and Government for their trust in him.
By 100 votes to 1 the Parliament of Georgia affirmed the new Government programme United Georgia Without Poverty. Opposition MP Giorgi Tsagareishvili was the only one to vote against it. "Unanimity has a very negative affect on the Government so I attended the vote to express my discontent. Silence means "yes", so I would have appreciated it if other opposition members had done the same. But everything needs courage," Tsagareishvili said, wondering how the public can trust a Government which reshuffles itself so many times a year.
Gilauri said that the fight against poverty should be conducted through effective activities aimed at economic development and restoring the territorial integrity of the country. "Both ecomonic and social policy will encourage employment. Our policy of unification will be built around the State Strategy on the Occupied Territories: Engagement Through Cooperation and security issues will be addressed on the basis of the public support for integration with NATO. Georgia will continue conducting effective activities in this respect and will integrate with NATO," the PM stated.
Low and simple taxes will be introduced with a wise and moderate regulatory system and social policy will be oriented on the socially unprotected under the new programme. MP and leader of Georgian Troupe Jondi Baghaturia said that 800,000 pensioners in Georgia only receive half of the subsistence level. "The State Budget has grown by GEL 215 million but we can't get confirmation that GEL 5 million will be set aside to address social issues," said Baghaturia. Gilauri responded by saying that Geiorgia is not a rich country and that's why it has a poverty oriented programme. He added hat he was proud of the Government programmes the opposition call "failed" and the social situation in Georgia has improved.
Gilauri said that after the significant growth of 2004-2008, at an average annual rate of 7%, Georgia faced difficulties in 2009 and saw a 3.9% contraction. Positive signs have emerged this year though, with real GDP growing 4.5% in the first quarter of 2010 year-on-year. The Government's conservative forecast was that annual growth would be 4.5% this year. Although the unemployment rate remains high, a lot of new jobs have been created since 2004 and the average salary has increased fourfold. The PM said that the low level of foreign direct investment (FDI) was still a problem though, with FDI in first quarter of 2010 being down to USD 75.7 million, a 41.5% fall on the same period of last year. He added that there was also a problem with the "reduced pace of privatisation" of state assets. He said that the USD 4.5 billion aid pledgd by international donors after the August war, had been vital for the country in the face of the reduced flow of investments from the private sector. Gilauri said that the Government has already allocated USD 3.5 billion out of the pledged USD 4.5 billion. "Georgia will use the full total of USD 4.5 billion within next two-three years," he concluded, stressing that the Government-proposed Act of Economic Freedom has yet to be approved by Parliament but remains the main priority, as this document is a major signal to international investors that Georgia's long-term economic outlook would remain stable.
Levan Vephkhvadze, Christian-Democratic Movement (CDM) MP, rebuked the Government for making Georgia "a country of leeks and dollars" saying that leeks are generally imported from Norway and sold in Georgia but the dollars are sent back to Norway. "The Government programme is merely a wishlist as the Georgian economy has no development prospects until the agricultural sector is developed and Georgian products are sold on the local market," he added.