Saba Literary Awards 2010
By Messenger Staff
Tuesday, July 6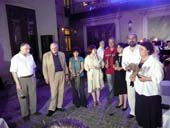 On July 4 TBC Bank revealed the prizewinners the 2010 edition of the annual Saba Literary Awards. This eighth competition took place in June 2010 and revealed the best literary works and best authors of 2009.
All literary works published in 2009 were considered for the awards, including novels, prose collections, collections of poems and plays and Georgian translations of foreign works, literary criticism and documentary prose.
Awards were given in the following categories:
1. Best novel of the year - won by Naira Gelashvili
2. Best collection of poems of the year - Zviad Ratiani
3. Best prose work of the year - Kote Jandieri
4. Best translation of the year - Manana Garibashvili
5. Best play of the year - Tamar Bartaia
6. Best literary criticism, essay or documentary prose work of the year - Zurab Karumidze
7. Best debut of the year - Maka Ldokoneni
8. Special contribution to the development of Georgian literature - Guram Dochanashvili
Apart from special prizes, the winners received monetary awards. The total prize fund amounted to GEL 36,000. The winners were given their awards by TBC Bank.