Microsoft Georgia presents new General Manager
By Messenger Staff
Friday, July 16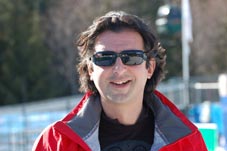 Microsoft Georgia has a new General Manager. The official presentation of Davit Asatiani took place at the Radisson Blu Iveria Hotel. Microsoft's General Manager in Central and Eastern Europe Veronica Prikrylova presented Asatiani to the public.
Speaking to journalists, Prikrylova said that Georgia has "significantly" advanced in economic development during recent years. Prikrylova said Georgia has "good resources" for bringing new products onto the market.
Davit Asatiani, who had been working in the Seattle branch of Microsoft, said that Microsoft Georgia is planning to start working in the country from Autumn. "We want to help the country develop its Information Technologies. At the first stage we will hold negotiations with companies and the Government. Now we are studying Georgia's communications market," he said.