PACE praises Georgia's reforms
By Gvantsa Gabekhadze
Friday, July 16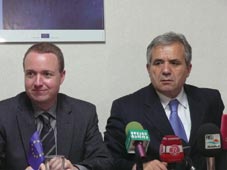 Rapporteurs of the Parliament Assembly of the Council of Europe (PACE) Kastriot Islami and Michael Jensen met Chairman of the Parliamentary Committee on Local Government and Mountainous Regions of Georgia Vakhtang Balavadze, Chair of Tbilisi City Council Zaal Samadashvili and members of the Parliamentary opposition on July 14 and discussed decentralisation and local government reforms in Georgia, constitutional reform and the election code.
"At the meeting it was said that the majority of the Council of Europe recommendations concerning the law On Local Government" and other laws have already been taken into account as far as possible, and this means that Georgian legislation in this field is in conformity with the European Charter. Council of Europe Recommendations will be adopted by the Georgian authority in the process of refining Georgian law," Balavadze said after the meeting.
The PACE representatives said, "We are satisfied with the local government reforms which have been carried out. The talks also touched upon the planned measures to decentralise power and strengthening local government bodies and we assess these plans positively," Jensen said.
Other issues were discussed at the meeting with the Parliamentary opposition representatives, attended by Giorgi Targamadze and Nikoloz Laliashvili from the Christian-Democratic Movement and Guram Chakhvadze from the National Democrats. "We talked about constitutional reform, the election code and media pluralism. If Georgia wants to become a democratic and developed country it should take into consideration and pay more respect to European standards. The Council of Europe monitors always have made and always will make recommendations which will ensure Georgia's prosperity," Targamadze said.
The meeting with Samadashvili was dedicated to the reforms undertaken during the local government elections. The Rapporteurs mentioned that the opposition's presence in City Hall and their active involvement in its affairs and those of other political institutions is very acceptable and this is a product of the reforms undertaken.
On July 15 the PACE representatives met ethnic Ossetians and local government members in the Gurjaani Municipality village of Kitaani. "We have learned the problems of the ethnic Ossetians living in the village. Their main problems are drinking water and access to the local school, which is in another village. The local authorities have stated that they are working on these issues and they will be resolved soon. We have seen that the ethnic Ossetians and Georgians living here have excellent relations," Islami stated.
The PACE Rapporteurs said that all information they gain in Georgia will be reflected in the report of their visit. Georgian analysts maintain that their visit is important because the content of these reports generally form the basis of PACE resolutions.
Jensen and Islami left Georgia on July 16.