We have freedom in common, separatists tell Ortega
By Salome Modebadze
Wednesday, July 21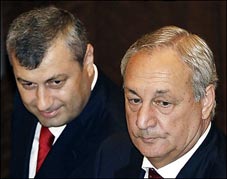 De facto Presidents of South Ossetia and Abkhazia Eduard Kokoity and Sergey Bagapsh thanked Daniel Ortega, the President of Nicaragua, for recognising their "young republics" during their 'official visit' to Nicaragua on July 20. Wishing success to the Latin American country, Kokoity said that the love of freedom was the most important characteristic of his nation. "With the warmth of my nation, brought here for Nicaragua, I would thank all your citizens for their support of South Ossetia," Kokoity said in his welcome speech.
"We want to live in peace, but we were forced to take arms just as you have been in the past and we won just like you. The fact that Venezuela and Nauru have also recognised the independence of the young Caucasian republics will become an interesting encouragement to other Latin American countries to follow this example," Kokoity added. He also said that the Russian Federation deserved great credit for ending war in the Caucasus.
Bagapsh in his turn stressed his great respect for the Nicaragua nation for their bravery in recognising the independence of the two breakaway regions of Georgia. "Long live Nicaragua! Long live Daniel Ortega!" Bagapsh said, praising the President. Daniel Ortega said that South Ossetia and Abkhazia have achieved independence despite their small size. He added that he hoped that one day Puerto Rico will gain independence from the US, Washington will stop blockading Cuba and the British occupied Falkland Islands will be returned to their legal owner Argentina.
"The young Caucasian republic takes Nicaragua's recognition of its status very seriously. For us and our [South Ossetian] nation, this confirms that the world is no longer unipolar. We plan to open an Embassy of Nicaragua on South Ossetian territory on the basis of various documents we will sign," Kokoity told the local media, explaining that the geographical distance between Latin America and South Ossetia is somehow bridged by the love of freedom.
In an interview with Ria Novosti Daniel Ortega said that it's time for the international community to acknowledge the independence of South Ossetia and Abkhazia. "The visit of Eduard Kokoity and Sergey Bagapsh to Nicaragua is a signal to the international community to stop blocking those countries, declare their sovereignty and respect the Abkhazian and Ossetian people's wishes, as even the smallest nations have a historical right to live freely," Ortega said, stressing that Nicaragua, South Ossetia and Abkhazia have the struggle for independence in common. "Our countries have passed along the same road, struggling in arms against aggression to keep their freedom. It's time to make agreements in a variety of fields, without which our relations can't be strengthened," concluded Ortega.
"The Kokoity-Bagapsh trip to Nicaragua has been financed by The Kremlin. It is a way to try and establish its new rules of the game regarding South Ossetia and Abkhazia, especially after the visit of international dignitaries to Georgia and the Obama-Medvedev meeting. By cooperating with small UN member countries the two breakaway regions are trying to persuade other members to accept them as sovereign states and UN membership candidates," conflict analyst Malkhaz Chemia told
The Messenger
.
The sides signed an agreement on 'friendship and cooperation' in Nicaragua, which includes provisions for visa free travel between Abkhazia and Nicaragua and economic, air and trade cooperation.