President attacks Ministry of Environment
By Gvantsa Gabekhadze
Monday, July 26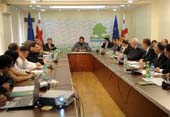 President Mikheil Saakashvili criticised the work of the Ministry of Environment Protection was on July 24. He made observations on its work in general and specifically the development of the tourism infrastructure development and the main obstacles and problems faced by the Ministry.
"The correct functioning of this Ministry is extremely important for the country. Creating a better environment for the public, tourism employment and the growth of Georgia's ability to attract tourists remain priorities for me. Rational usage of the Georgian forests remains a problematic issue however. The forests should help create a better future for Georgians. I know that we have received a difficult inheritance, but the main thing is that each employee of the Government structures should feel themselves the servant of the Georgian people," Saakashvili stated.
Saakashvili added however that "mini dragon" Forest Department employees do not have such feelings. "We have managed to change the psychology of policemen, Public Registry employees and those of some other institutions, however I cannot do anything with these Forest Department employees. They still cannot understand that they do not rule the world. They do not know how to behave with people, with investors, who are an important source of the country's income," Saakashvili said.
The President specified ways to further develop tourism in Georgia. "23 lakes have been chosen for the kind of development that the Lapota, Kverali and Bazaleti lakes have already undergone. In many cases we have already managed to construct roads to get people there. We conduct ongoing negotiations with foreign investors on different projects, including aviation and domestic aviation issues. Part of this strategy is the construction of small airfields in Kakheti, Racha, Mestia, Samegrelo and Tusheti," Saakashvili said. He again underlined the great tourist potential of Mestia. "There is wonderful mineral water in Mestia. I cannot name any other place in the world with such an excellent winter skiing zone, brilliant summer holiday capacity, amazing nature and medicinal mineral water as Mestia," the President stated.
Despite criticising the Ministry the President remembered its good employees and gave medals of honour to three of them.