Saakashvili wants more "modern" education system
By Lia Bezhanishvili
Monday, July 26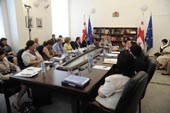 President Mikheil Saakashvili said on July 22 that Georgia had no priority more important than the development of the education system.
In televised remarks during a meeting with senior officials from the Education Ministry Saakashvili said that despite its achievements the country's education system "is failing to tackle the challenges which Georgia faces on its way to modernisation". "We need to undertake a serious modernisation of the education system even with the modest finances we have," Saakashvili said, adding that this should be done by focusing particularly on developing applied sciences, engineering and technology. The 2010 Education Ministry budget is GEL 561.68 million, up from GEL 519 million in 2009.
"When we talk about Singapore, this is how Singapore developed (through applied sciences, engineering and technology), and when we talk about China, this is how China developed," the President said.
"We should understand that the education system is a strategic priority for our country; it is impossible to have a more important and strategic sector than this, and each and every state institution is ready to assist you," he told Education Ministry officials, adding however that "we also expect from you in return that standards will increase."
The President outlined how the education process should be developed. "We introduced computerisation in schools. It is very important that a pupil has a computer from first grade onwards. This programme will be implemented this year. The most important thing is to train computer specialists who will teach the pupils. No pupil should leave school without minimal computer skills," Saakashvili said.
The President commented that often 11th and 12th grade pupils do not go to school. "We have already made discipline severe, but the main thing is to achieve their attendance not by applying pressure but by making the pupils interested in attending school," he said.
The President said that a two-level education system will be put in place from next year. Those wanting a professional education will be able to leave school after the 10th grade while those wanting higher education will finish the 12th grade. He also said that teachers who undergo certification will receive increased salaries.
The President stated that the modernisation of education means putting an emphasis on technical fields first of all because "The current standards do not meet Georgia's requirements for tomorrow." He also praised the Education Ministry and said, "In general I want to tell you that we and the public highly value your work; although there are some shortcomings, we also see achievements."