Abkhazian de facto PM hopeful for Kosovo precedent
By Mzia Kupunia
Monday, July 26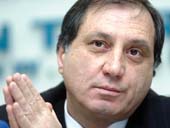 The conclusion of The Hague International Court of Justice that Kosovo's declaration of independence does not contradict international law confirms the right of nations to self-determination, de facto Abkhazian Prime Minister Sergey Shamba said on July 23. "This [the conclusion] gives the arguments of the Abkhazian side more weight,"
Apsnypress
quoted Shamba as saying. However the de facto Prime Minister said that "considering the double standards of Western politicians, even if Abkhazia applies to The Hague International Court I am not sure that the same kind of decision would be made."
Shamba claimed that Abkhazia has "more historic, moral and judicial grounds to be recognised as independent than Kosovo has," and noted that after "such a decision by the court, international experts will not be able to state so categorically that Abkhazia has no right to self-determination or to be independent." However, not everyone agrees with the separatist leader's assessments. The Georgian Experts Club issued a note following the publication of the conclusion saying that it cannot be considered a reason for Russia to apply to the international courts to "justify the occupation of Georgian territories."
"Comments were made in Tbilisi after the conclusion of the Court was announced. It was said that there is nothing in common between the conflicts in Serbia and Georgia. The Government of Serbia conducted an ethnic cleansing of the Kosovo population, while the Georgian population in Abkhazia and the Tskhinvali region were the victims of ethnic cleansing. Russia will not appeal to the UN International Court because it knows it will be defeated," the note reads.
Meanwhile the de facto Abkhazian and South Ossetian leaders have summarised the results of their "official visits" to Nicaragua and Venezuela. Eduard Kokoity and Nicaraguan officials signed agreements on "friendship and cooperation", including documents on cooperation in the trade and economic spheres, as well as a visa-free travel regime. The same kinds of documents were signed by de facto Abkhazian President Sergey Baghapsh and the Venezuelan leader.
Eduard Kokoity called his visit to Nicaragua "historic". "The international agreements signed here increase the international authority of our state. We will strive to establish relations with other states as well. Currently we are consulting with Latin American and Asian states. It is very important for us that South Ossetia be recognised by as many countries as possible," news agency
Osinform
quoted Kokoity as saying.
The de facto Abkhazian leader expressed his "gratitude" to Venezuelan leader Hugo Chavez for recognising Georgia's breakaway region as an independent state. "I hope that the documents signed between us will help increase the pace of developing Abkhazian-Venezuelan relations," the de facto leader said. Hugo Chavez promised to "support Abkhazia in all spheres" and also pledged to help Sokhumi gain recognition by other states.
Officials in Tbilisi assess the recognition of Georgia's breakaway regions as independent states as a "violation of international norms." The Georgian Foreign Ministry says that Nicaragua and Venezuela recognised Abkhazia and South Ossetia as independent countries "in return for the money offered to them by Russia."