President praises prison reforms
By Gvantsa Gabekhadze
Tuesday, July 27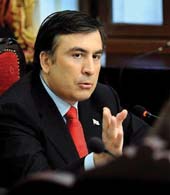 President Mikheil Saakashvili visited the Ministry of Corrections and Legal Assistance on July 26 and positively evaluated the Ministry's activities, talking about Government achievements in this field.
"The Ministry of Corrections and Legal Assistance has formed itself into a valuable structure. I welcome the functions of the Probation Service, Prosecutor's Office, Justice Ministry and some other branches being gathered together. I am thankful to Khatuna Kalmakhelidze for her effective reform of the penitentiary system," the President stated.
Saakashvili underlined that two of the most serious achievements of the present Government involve reducing crime. "The system faced serious challenges, including crime empires being run from prison, convicts selling the proceeds of robberies from prison, cells not being locked and crime bosses and prison administrations doing deals. Two of our most important achievements are: 1. criminal activities are no longer run from prison and we have fought hard to achieve this and 2. prisoners' families are no longer obliged to continue feeding them while they are imprisoned, therefore so-called handovers are not needed any longer," Saakashvili said. "Former Minister Bacho Akhalaia (the present Defence Minister) was very young when I appointed him and he declared an uncompromising war against the extremely tough situation in the prisons. So-called criminal authorities were isolated from other prisoners, mobile phones were taken away and strict control was imposed on anything brought into the prisons. Of course this resulted in strikes, as we expected, but we managed to suppress them. It makes me laugh when somebody criticises Akhalaia, as those people who do so were and are connected with criminals, I am sure," Saakashvili said. He linked this criticism with the street rallies organised by the opposition. "The report presented by the Austrian Police confirms that the main financiers of the street rallies in Georgia were criminals living in Austria, Russia and some other foreign countries," Saakashvili stated.
Nestan Kirtadze, one of the leaders of the Labour Party, told
The Messenger
, "All the accusations made by President Saakashvili against the opposition, including the one that the real opposition is being financed by criminals, are false and part of a PR stunt. I appeal to Mikheil Saakashvili to give concrete evidence and prove all his accusations. As for Bacho Akhalaia and some others, the genuine opposition do not fight against any specific official but the Bolshevik system which is being created in the country, when the legal system in pressurised by the Government, all public officials are appointed for political reasons and when no legal and other state institutions function appropriately and impartially," Kirtadze said.
Analyst Soso Tsiskarishvili stated, "The most important thing, in general, is that all the legal institutions in the country are under Government pressure. In fact, the law is now the hostage of the present authorities. Whatever is being done in the country, meaning changes or amendments, is being done only in the interest of the Government," Tsiskarishvili told
The Messenger
.