IDPs evicted from Tbilisi shelter
By Lia Bezhanishvili
Tuesday, July 27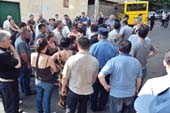 Refugees from Abkhazia were evicted from the Samshoblo publishing house on July 26. Trucks were mobilised beside the building and it was emptied. The perimeter was secured by hundreds of policemen.
Staff of the Ministry of Internally Displaced Persons from the Occupied Territories, Accommodation and Refugees of Georgia came to the publishing house to oversee the eviction, and verbal confrontations occurred between them and the refugees, who protested that they are being left outside with children.
Conservative Party member Lasha Chkhartishvili was also outside the publishing house. He said that the refugees would continue their protest until they were rehoused in alternative facilities in Tbilisi. He said that the refugees themselves had decided to protest and his party would support them.
"At this stage the police are preventing me from getting near the refugees but as soon as the eviction is finished I will decide with them what kind of further protests we will hold," stated Chkhartishvili. He added that the refugees had been offered living space in the villages of Potskho and Oreli, in the Zugdidi region, but this was unacceptable for them. "If the refugees agreed to live in these villages they would not be able to harvest any crops in August because there is not enough time for this and for a year they will have to go hungry," he said.
Representatives of the Ministry stated that the places offered in Zugdidi must be accepted because other people live in Zugdidi. The refugees stated that they would not be able to earn a living in Zugdidi, while in Tbilisi they have a source of income.
Refugee Erasti Gugeshashvili said that they have been living in Tbilisi for 20 years and are employed here while in Zugdidi they will not have jobs. "I have never received compensation from the Government and I do not have a home either. I have always lived in rented property and now I am going to have to rent a house. I just ask the Government to pay attention to us, because our eviction is very unfair," said refugee Nino Gogokhidze.
Head of the Ministry of Internally Displaced Persons from the Occupied Territories, Accommodation and Refugees Eka Gulua said that only 15 families have received their Government compensation recently but all the others had previously received it and some been housed. The 15 families will be moved to a renovated building in the near future, the Ministry said.