Business is waiting to boom, Ministers insist
By Gvantsa Gabekhadze
Wednesday, July 28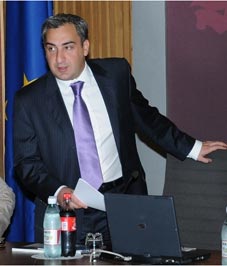 At the Government sitting on July 27 Prime Minister Nika Gilauri summarised his visit to Azerbaijan, underlining the positive elements of the Georgian-Azeri memorandum on the transit corridor and some other significant issues concerning economic and investment growth.
"We have managed to agree on important issues with Azerbaijan which are very significant for Georgia's economic development. The most important is the signed memorandum on the transit corridor which will connect China to Europe through Georgia and Azerbaijan. This corridor will increase goods turnover in the country and create jobs," Gilauri said.
The Prime Minister mentioned that the Georgian Business sector could profit from cheap loans. "Finance Minister Kakha Baindurashvili has just come back from the Black Sea Development Bank's Council sitting. That Bank has allocated serious sums for the Georgian Business sector; they will be able to get cheap loans and develop their businesses. Georgian businessmen will also be able to get such loans from IFC: this organisation is linked to the World Bank and is oriented on supporting the private business sector," Gilauri said. He gave a special task to Baindurashvili. "I appeal to Kakha Baindurashvili to gather Georgian business sector representatives together in the next few days and explain to them how they can profit from cheaper loans," PM Gilauri stated.
The World Bank and its studies were the main talking point for Minister of Economy and Sustainable Development Vera Kobalia at the sitting. "Foreign investors pay great attention to the ratings of the World Bank. In their latest study Georgia is listed as one of the countries most open for foreign investors. This means that we should suggest new projects and initiatives to them," Kobalia said, explaining why it is easier to launch a business in Georgia than in some other less developed or developed countries. "Starting and registering a business in Georgia requires only one day, whereas it takes 30-60 days in other Caucasus countries. If a foreign company wants to start up here, it should appeal to Justice Ministry's Public Register Office and it can create a Georgian limited company in extremely quick time. Foreign companies do not need to present additional documents. A company representative can fill in the necessary forms online on the website of the Register and get an identity number," Kobalia said. (the World Bank study 'Investments Abroad 2010' was carried out in 87 countries and focused on four main issues- how easily can foreign companies invest there, how do they start their businesses, what land ownership regulations are and how disputes are resolved.)
Economic analyst Davit Narmania has told
The Messenger
, "I welcome the fact that some procedures concerning foreign business coming into the country have been simplified, however this is not enough to attract foreign investments, as there are some problems with the Tax Code. This is amended very frequently and is therefore unstable. This law should be more refined and consistent if we want more investments in the country," Narmania said. "As for the transit corridor, Georgia is already a transit corridor and this is as profitable for Azerbaijan as for Georgia. However there are some areas of the agreements which should be clarified. For example, there are cases in which the same goods are transported by different means of transport, firstly by ship and then by vehicle and so on. How are fees to be calculated in these cases? At the present moment Poti Port is in the hands of a private investor and the Georgian authorities cannot get involved in such issues," Narmania said.