Georgia welcomes extension of EUMM mandate in Georgia
By Mzia Kupunia
Wednesday, July 28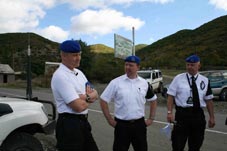 The Georgian Ministry of Foreign Affairs has welcomed the decision of the EU Council for Foreign Affairs to extend the mandate of the European Union Monitoring Mission for twelve months until September 14, 2011. The Ministry noted that the final document of the EU Council states that EUMM Georgia "seeks to provide civilian monitoring of parties' actions, including full compliance with the six-point agreement and subsequent implementing measures throughout Georgia, working in close coordination with partners (UN and OSCE) and consistent with other EU activity, in order to contribute to stabilisation, normalisation, and confidence building whilst also contributing to realising the European Union's long-term policy with respect to Georgia."
Georgian Deputy Foreign Minister Davit Jalaghania assessed the extension of the EU Monitoring Mission in Georgia as "important". Speaking to journalists ahead of the Government session on Tuesday Jalaghania said that the EU is interested in maintaining peace and stability in the region. "You know that there is a constant discussion about fulfilling the complete mandate on Georgia's occupied territories as well and I hope that in the nearest future the monitoring mission will have this opportunity as well," the Deputy Foreign Minister noted.
Georgian Parliament Vice Speaker and MP from the ruling United National Movement Mikheil Machavariani also commented on the decision to extend the mandate. He noted that the EU is an international organisation which will not allow Russia to do "whatever it wants" on Georgia's occupied territories.
The EU Monitoring Mission in Georgia was launched on October 1 2008, following the Georgian-Russian war of that August. "In order to monitor the implementation of the peace agreements of 12 August and 8 September, which have been brokered by the European Union, and to contribute to the stabilisation and normalisation of post-conflict Georgia, the Foreign Ministers of the 27 member states decided on 15 September to deploy a civilian and unarmed monitoring mission," a note posted on the EUMM website reads "In only two weeks – by October 1st - the EU succeeded in deploying more than 200 monitors from 22 member states on the ground. This has been the fastest deployment of a mission the EU has ever achieved. Nowadays the EUMM has monitors from 26 member states," it continues.