Geneva talks end with no result again
By Mzia Kupunia
Thursday, July 29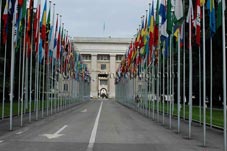 The 12th round of Geneva talks ended with no result on Tuesday, as the only agreement the sides were able to reach was to hold the next round on October 14.
The Georgian Foreign Minister released a special statement following the discussions, saying that Tbilisi had once again called on Russia to meet its commitments under the August 12 2008 ceasefire agreement and withdraw its troops from Georgian territory. "The Georgian side also stressed the necessity of establishing a steady international regime of security in the occupied regions and underlined that this regime should be based on strong international peace and police mandates, envisaging the complete withdrawal of Russian military units [from Abkhazia and the Tskhinvali region].
The Georgian Foreign Ministry said in its statement that "currently Russia continues to violate all points of the ceasefire agreement and is trying to thwart the negotiations on deploying a full-scale international mission in the occupied territories. Due to this fact the international community is not able to record the continuous human rights violations and the deterioration of the security situation [in Abkhazia and South Ossetia]."
According to the Georgian Foreign Ministry, the Co-Chairs of the Geneva talks presented a "renovated version" of the document on the non-use of force and an international security mechanism. "The Georgian side welcomed the document and expressed its readiness to continue working on the proposed consistent approach. However the Russian side protested against the document and cast doubts about its legitimacy. With this they once more demonstrated their attitude towards the Geneva talks," the Georgian Foreign Ministry statement reads.
Meanwhile the de facto Abkhazian and the South Ossetian sides again raised the issue of signing a non-use of force document between Tbilisi, Sokhumi and Tskhinvali. Boris Chochiev, de facto Special Representative of the so-called South Ossetian President in Post Conflict Regulation Issues, accused the Co-Chairs of the Geneva negotiations of having an "unconstructive position" on this issue.
"The Georgian and US sides avoided discussing the issue of signing a non-use of force document between Georgia, Abkhazia and South Ossetia. The reason for all the problems which occurred during the last 12 rounds of the talks is that the Co-Chairmen are not able to find a common language about the draft project, something which is hidden by the unconstructive position of the Co-Chairs," Chochiev told journalists "Meanwhile the Russian, Abkhazian and South Ossetian position is that if this document is not worked out and adopted in the nearest future, we will have to find other solutions," he added, without however specifying what "other solutions" he meant.