Foreign teachers arrive in Georgia
By Messenger Staff
Monday, August 2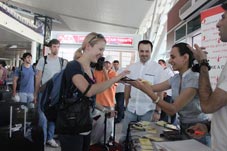 On July 31 a number of foreign teachers arrived in Georgia, in the framework of the educational program "Teach and Learn with Georgia". Starting in the new academic year this program aims to get involved in the education process together with local teachers. Minister of Education and Science, Dimitri Shashkini met the foreign teachers at the Tbilisi International Airport.
English language teachers of Georgian public schools will master new teaching methods and approaches together with the foreign teachers.
The new project was initiated by the Government of Georgia and envisages recruiting 1,000 native English speaker teachers. Registration of the volunteer teachers started on March 1, 2010 on the website www.tlg.gov.ge, which was created especially for this program. Foreign volunteer teachers are able to apply for positions as well as find an array of information about Georgia, its history and culture on the site.
The first group of 50 foreign teachers who arrived last week will spend two months becoming familiar with the country and learn the Georgian language if they wish. They will get involved in the education process from start of the new academic year. The educational program covers almost half of the schools of Georgian cities and villages of varying size. Specialists of English language will arrive from the USA, England, Australia, Canada, New Zealand and countries of Eastern Europe and Scandinavia.
The project's implementation is based on the experience of the American Organization "Peace Corps" that has been carrying out activities in Georgia since 2001 and recruits American volunteers every year. Volunteers work in the public schools of Georgia together with the Georgian teachers for two years.
Dimitri Shashkini commented that "Teach and Learn for Georgia" is an important program – it gives Native English speakers the opportunity to teach the English language to Georgian schoolchildren and in addition the volunteers return to their home countries as ambassadors for Georgia - highlighting Georgia's rich history, ongoing democratic reforms, Georgian culture and traditions.