A new breath of fresh air – Beshumi resort
By Messenger Staff
Wednesday, August 4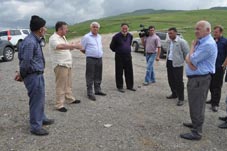 On August 2, the Deputy Chairman of the Parliament of Georgia, Anzor Bolkvadze met with the new management of the Beshumi resort and expressed interest in the resort's work during the summer season. Guest houses and cottages have already been renovated for the tourists in the resort of Beshumi. With the support of Anzor Bolkvadze construction of new holiday homes has already started together with renewal of the water supply systems.
"Local, wonderful nature and climate, characteristic of the alpine zone makes Beshumi attractive in summer and in winter. Furthermore, skiing is rapidly developing in Adjara and a lot is being done to develop the winter resort infrastructure. While the number of visitors to Beshumi increases each year, currently the number is less than one thousand; it is not enough. The Government is paying more and more attention to creating facilities with good conditions in Beshumi and raising public awareness. We hope therefore that soon Beshumi will become a favourite holiday destination for the population of our country," Bolkvadze said.
Beshumi is located in the mountainous alpine zone of Adjara. It is located on the eastern slope of Arsiani Range, 1850-1900 m above sea-level. Traveling to Beshumi visitors will easily be filled with extraordinary impressions while passing through the fascinating Acharistskali Valley in which plants characteristic of Kolkheti are still preserved today. Clean Mountain Rivers form attractive waterfalls, creating unforgettable scenery.
Beshumi is remarkable for its fresh air. Coniferous forests contribute to special iodisation of the air. Beshumi is the best resort for people with chronic respiratory diseases and bronchial asthma.