Russia, Belarus and Georgia's breakaway regions
By Gvantsa Gabekhadze
Wednesday, August 4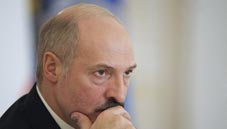 We are interested in Abkhazia and South Ossetia being recognised by Belarus and others, however it is not our aim - Russian president, Dmitry Medvedev stated for Russian Online Media
Ria novosti
, on August 3.
"A couple of years ago, at a meeting of CIS leaders, the President of Belarus, Alexander Lukashenko promised the recognition of Abkhazia and South Ossetia. We are interested that these territories are recognised by other states, however it is not our main goal," Medvedev commented.
The Russian president also made small remark concerning the 2012 presidential election in Russia and stated that he had no desire to see confrontation among ally forces in that election, "I do not know who will participate in the presidential race for 2012. It might be Medvedev, Putin or some others. However, thinking about who the rivals might be is significant as the country should follow the present course of development. The process should be carried out based on the previously specified script" Medvedev stated.
The Russian president has not denied that he and the present Prime Minister Putin might be opponents in the presidential elections scheduled for 2012, however he mentioned, "I have no desire for allies to oppose one another in the elections," Medvedev said.
During his visit to Belarus, President of Georgia, Mikheil Saakashvili stated that despite pressure from Russia, Belarus will make reasonable and wise decision. "I believe that Belarus will make a wise move as in Georgia we recently received a group of lawmakers from Belarus and they considered the issue very seriously. I know that Belarus is under pressure from Russia to recognize Georgia's breakaway regions, however, I think Belarus will act wisely," Saakashvili stated.
Only Nicaragua, Venezuela and Nauru recognize Georgian regions as independent republics. Many considered that Belarus would follow; however the reality has turned out differently. As foreign and Belarus analysts state, Minsk refrains from making this step, as such decision would worsen its relations with the West.
Analyst Giorgi Khutsishvili told
The Messenger
, "Medvedev says that Lukashenko promised the recognition of Abkhazia and South Ossetia. However, Lukashenko has mentioned several times that he has never given such a promise. Russia has levers to exert pressure on Belarus and try to make it to recognise the independence of Georgia's breakaway regions. However it is expected unlikely that Belarus will make such a decision, as it is trying to come closer to Europe and such a step would make serious obstacles for it in this field," Khutsishvili said. He added, "As for whether or not some other countries will recognise these Georgian territories, it is a long term case and an unclear future, however, I do not want any big and influential country to do this. Some small and insignificant countries might recognise them, because of some reasons, like insufficient information or big countries' influence, but this will not change anything."