A factory of fulfilled dreams
By Salome Modebadze
Friday, August 6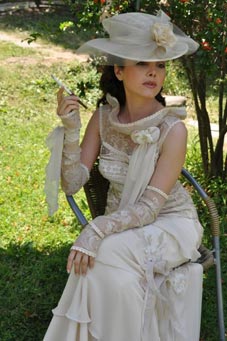 A successful graduate of the Tbilisi State University media faculty, following her media experience Lika Kazbegi found herself in show business. She established her own successful model agency which has been operating for a long time. In an interview with
TimeOut Tbilisi
Lika shared her professional experience stressing she always achieves her defined target. "I started my career in show business quite unexpectedly. We, a group of volunteers of different professions were just trying to establish a real model agency. I was one of the managers; we had a designer, models, etc. Unfortunately however there was a disagreement among us which forced me to open my own model agency, and as you know this has been operating with great trust and respect for ages. It took me quite a long time to acquire all the skills and abilities necessary for the fashion world – I mean walking on a catwalk and the other manners that are important weapons for each woman - not only aimed at attracting a male but for business relations. I was lucky to have a unique specialist in model choreography who did his best to help me acquire all the necessary manners which I have been enriching with my personal experience," Lika told us.
Saying her "pupils" just pay once at the beginning of their lessons because each of them needs a special approach to acquire the skills, Lika admitted her agency is often called "a factory of fulfilled dreams" because girls really "find themselves" in her studio. "The fashion business is not so popular in Georgia because models avoid spending money to be popular. Everyone definitely prefers being "discovered" for their beauty but it doesn't always happen like that in our country. Promoters may spend enormous amounts of money on a girl if they find she will repay them everything and more but that's not the case here – models generally have to make their own portfolios and wait for a lucky star," explained Lika stressing she doesn't simply teach her models how to walk but to take pride in themselves, which according to Lika is a key to success. "Girls are often afraid before a particular fashion show and I always get them to change their poses - to relax. A model with scared eyes and a confused look won't make any impression on the audience even with her beauty."
Being the innovator of original projects with impressive and scandalous titles Lika is thinking about launching a fashion show called
Desperate Housewives
, which just like her previous projects
Footballers Wives, Successful Women on the Catwalk, Bridal Dresses
will be introduced to public by only beautiful women. Saying her dreams always come true, Lika told us she wants to have dozens of different agencies based on her fashion academy. So let's wait for Lika's new inspirations and for now wish her success with her original projects.