President Visits IDP's in Shaumiani
By Messenger Staff
Friday, August 6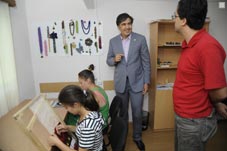 On August 4 President of Georgia, Mikheil Saakashvili visited Shaumiani village in Marneuli region and met with the IDPs there. He visited the Shoshitaishvili family with five children that were persecuted in the small Liakhvi gorge.
The President talked with the locals and examined a kindergarten built for the local children. Saakashvili also learned about the progress of the European Union's social-economic project. The project foresees the residents' social-economic rehabilitation. The project also includes free teaching of English language and computer programmes to the IDPs.
"Refugees have more chance of success. Of course it is difficult to start everything anew, but they have survived after bearing many significant difficulties. They are motivated to start new lives. We should assist them; teach them English, computer skills, writing of projects. You are doing excellent job for them," Saakashvili said.