Medvedev on the 5-day war
By Salome Modebadze
Friday, August 6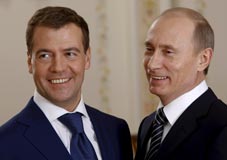 President of Russia Dmitry Medvedev said he is sure that Russia did the right thing in August 2008 when it fought Georgia and recognized the breakaway republics of South Ossetia and Abkhazia, Ria Novosti published on August 5. Saying Russia is ready to reestablish valuable relations with Georgia after President Mikhail Saakashvili's resignation, Medvedev stressed that it was through no fault of Russia that diplomatic ties with Georgia had been ruined, laying the entire responsibility on Saakashvili. He stressed that Russia recognised the republics after repelling Georgia's assault on South Ossetia in the five-day war. Nicaragua, Venezuela and the tiny Pacific island state of Nauru later followed the suit. "Russia came to the South Ossetian and Abkhazian peoples' rescue "when their sheer identity was under threat," the President stated.
Claiming that particular countries agree that Russia's activities in August 2008 were warranted Medvedev emphasised that the leaders of many states have actually acknowledged Georgia's aggression against Russia. "We have wonderful cooperation with the EU and other countries in various issues and we are also discussing the Caucasus crisis. Despite the differences in particular approaches, almost everyone from the narrow circles have agreed on Russia's wise response to [Georgian] aggression," Medvedev said at a press conference with South African President Jacob Zuma, adding that several of his like- thinkers hesitate to make their feelings public due to particular viewpoints.
"It's impossible for us to have normal relations with Georgia under the present leadership but it doesn't mean that our bilateral cooperation won't be renewed under a new government. I'm sure that will happen; the Georgian people will make a wise choice and the historical friendly cooperation between the Georgian and Russian people will be fully restored," Medvedev remarked. "This all doesn't depend at all on a will of particular political authorities working to create a different scenario of relations between the two countries, on the contrary this relation will still see good times," the Russian President added.
Analyst Soso Tsiskarishvili told
The Messenger
that the comments on the August War made by Dmitry Medvedev are simply aimed at the Russian population which is unaware of the issue. "I think the Russian President had better look in the mirror before making suggestions about changing the Georgian leadership. Let him first name the person who informed him about the two thousand Tskhinvali citizens who died on August 8, 2008. He can't firstly because this number has been exaggerated ten times and secondly this person doesn't exist at all," the analyst told us stressing that if this information was true Saakashvili would have been immediately sentenced by the Hague Court.
"Russia is interested in deterring the created [after-war] situation. It would be a wonderful gesture if President Medvedev would give Saakashvili the chance to resign with the Prime Minister and give the new leadership an opportunity to govern both states in peace," Tsiskarishvili concluded.