Medvedev in Abkhazia
By Ernest Petrosyan
Monday, August 9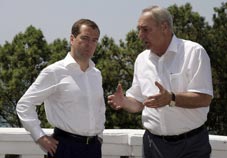 Russian President Dmitry Medvedev arrived on Sunday in Abkhazia, in his first ever visit to the Georgian breakaway region since the 2008 August Russian-Georgian War. Medvedev held talks with Abkhazia's proxy regime leader Sergey Bagaph and walked along the shore of its capital city Sukhumi.
Visiting on the second anniversary of the conflict, Dmitry Medvedev assured Abkhazia's de-facto President Bagapsh that Russia would develop comprehensive relations with Abkhazia, saying, "Russia will develop a whole complex of relations with Abkhazia – there is no alternative." "It is very important now to continue the development in the political, economic, social and security spheres. At present Abkhazia has plenty of opportunities to make this country prosperous," stated Medvedev.
In the wake of the 2008 August War, Moscow recognised Abkhazia and fellow rebel region South Ossetia as independent states – a move so far followed by only a few - condemned by the West - countries, which for their acts of recognition received huge economic benefits from Moscow.
"Two years ago well known and grave events occurred in South Ossetia which triggered several political processes, including the recognition of Abkhazia and South Ossetia as independent subjects of international law," stated Medvedev. "It was not a simple decision for us," Medvedev said. "However, time has shown that it was the right decision. The existence of the peoples of South Ossetia and Abkhazia was under threat."
"If that decision had not been taken, the situation now would be completely different. Now, as I see the situation with our international partners has settled down" he added. Medvedev assumed that time the existence of Abkhazians and Ossetians were in danger.
Georgian officials condemned Medvedev's visit, reacting to it with exasperation. Georgian Reintegration Minister Temur Iakobashvili advised Medvedev to focus on the wide range of his domestic problems. "I think maybe he is trying to distract attention," commented the Reintegration Minister Temur Iakobashvili.
"They are still playing a game that they have lost. These territories are now recognised as occupied territories and these kinds of trips will not change that or add anything positive to the region," stated Iakobashvili.
Abkhaz separatists, with Russian back up, waged a civil war with Georgia in the 1990s after the collapse of the Soviet Union; a war that killed about nine thousand people and left more than 300,000 people, mostly ethnic Georgians, as refugees.
Since Moscow's declaration of its independence, Abkhazia has been boosted by significant Russian aid and visits by numbers of Russian tourists. But its economy remains stricken by the lack of international recognition.