Tributes to the Fallen
By Salome Modebadze
Monday, August 9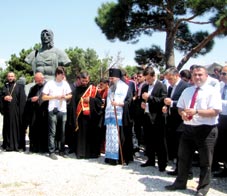 Prime Minister Nika Gilauri paid his respect to the fallen soldiers of the Georgian-Russian war on the 2nd anniversary of the tragedy on August 8. At a special church service in the Gori and Samtavisi metropolitan area Andria prayed for the souls of the soldiers fallen both in the Abkhazian and South Ossetian conflicts. "We should always remember the names of our heroes and do everything to follow their goals and rebuild and return the lost territories. The nation with such heroes doesn't have the right to take backward steps," Gilauri commented after the mass.
With a human chain around the Gori fortress and a releasing of doves after the civil funerals, Gori citizens and their guests symbolised the peace and unity of the country. "We pay our respect to the people fallen during the August war in 2008. I would like to encourage their family members proving that we will finish the work started by those heroes even if it would cost us our lives," Koba Subeliani, Minister of Internally Displaced Persons from the Occupied Territories, Accommodation and Refugees of Georgia stated. "The human chain around the Gori fortress is a symbol of our unity – we are together now and the enemies won't defeat us," Governor of Shida Kartli Region Zurab Arsoshvili added.
Gori town was the centre of attention with 5,000 red and white candles in the colours of the Georgian national flag depicting the Georgian map drawn in the central square which lit the Shida Kartli Region on August 7.
"These candles are lit for the memory of those heroes killed in the war. From the centre of Gori we want once again to show the whole world the lit map of our country," Arsoshvili explained to the media.
The de-facto South Ossetian Government also commemorated the anniversary of the Georgian-Russian war with the lighted candles at the centre of the Tskhinvali square on August 7. Recollecting moments form the August war, Edward Kokoity, de-facto South Ossetian leader said time won't cure the pain from their hearts. "I will always give the mothers of the fallen soldiers an apology wherever I go. I would apologise to the Ossetian and Russian mothers for being unable to save their sons' lives. We will always praise this victory," Kokoity told his guests.
A funeral procession for the Tskhinvali defenders was also held in Moscow on August 8.