Reactions to Medvedev's Provocative Visit
By Gvantsa Gabekhadze
Tuesday, August 10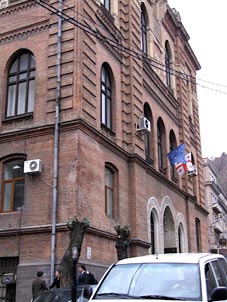 On 8 August 2010, Russian President Dmitry Medvedev, in violation of Georgia's national border, visited occupied Sokhumi on the second anniversary of the open and full-scale aggression that Russia begun against Georgia on 7 August 2008 – the official statement of the Foreign Ministry of Georgia on August 9. The ministry regarded this fact as not just a simple coincidence.
"This so-called "visit" to the occupied territory of the sovereign state, carried out in a manner typical of Soviet political leaders, represents yet another cynical act, through which Russia once again confirms that it thinks little of its own international obligations, and it was not going to nor has any intention to fulfill either point of the cease-fire agreement of 12 August 2008. Meanwhile the Kremlin is now set on creating an illusion of legitimacy for the proxy regimes as, despite Russia's gallant efforts and financial generosity, an attempt for recognition [of the breakaway territories] by the international community has ended in failure," the statement said.
The Georgian Foreign Ministry called this visit a deliberate provocation and appealed to foreign states to break up Russia's illegal activities, "The Ministry for Foreign Affairs of Georgia expresses its strict protest over yet another attempt to destabilize the situation and to escalate tension in the Caucasus and calls for the international community to force Russia to respect the universally recognized norms and principles of international law and to unconditionally fulfill the commitments under the six-point Agreement of 12 August 2008 and, first of all, to carry out immediate and full de-occupation of the territory of Georgia," reads the official statement.
Regarding the Georgian occupied regions, the Georgian Foreign Ministry welcomed the statement adopted by the Estonian-Georgian Parliamentary Group of the Parliament of Estonia and thanked the Estonian side for its support. "The Estonian-Georgian Parliamentary Group expresses its concern that a large part of Georgian territory is still under occupation, the internally displaced persons from Abkhazia and Tskhinvali regions lack the possibility to return to their permanent homes and that Georgian citizens, as well as representatives of international organizations and peacekeeping and humanitarian missions do not have access to the occupied regions. Estonia reaffirms its respect to the sovereignty and territorial integrity of Georgia and calls upon Russia to withdraw its decision on the recognition of so-called Abkhazia and South Ossetia," reads the statement of Estonian-Georgian Parliamentary Group.
"Such supportive statements and resolutions towards Georgia's occupied regions are increasing and we welcome this fact, as it is a sign that foreign countries have significant and sufficient information on what is going on in Georgia. This is the guarantee for us that we will fulfill our aim and reintegrate our territories," Deputy Foreign Minister, Davit Jalaghania stated.
Analyst Soso Tsintsadze commented that following its recognition of Abkhazia and South Ossetia, two black holes appeared in Russia's state budget, "Russia has to pay too much for Abkhazia's and so-called South Ossetia's recognition and if some other country will accept Russian appeal to recognize the regions, Russia will have to pay more than it paid to Nauru," Tsintsadze said.
According to analyst Malkhaz Chemia, international support and active participation in international issues and plans will be profitable for Georgia, "The Georgian Authorities should avoid strong and unpredictable statements and activities as we have already experienced tragic results from this sort of behaviour. Georgia should follow international recommendations and decisions, which will be better for Georgia and will force Russia to concede," Chemia told
The Messenger
.