UEFA President Visits Tbilisi
By Salome Modebadze
Wednesday, August 11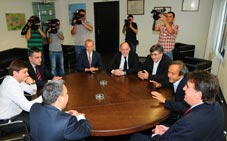 The President of Union of European Football Associations (UEFA) Michel Platini summarised the details of his two-day working visit to Georgian on August 10. After visiting the Tbilisi stadiums [among which the technical centre of Basa has been financed by UEFA] and meeting the relevant authorities, Michel Platini welcomed the development of sport infrastructure in Georgia.
On Georgia's chances for hosting the 2012-2013 European League Final in Tbilisi, Platini answered UEFA still has a lot of time to think over the issue and inform the Georgian Football Federation about the decision. "At least four stadiums are essential for the youth championship final and its 5-6 thousand spectators. In addition stadiums are not all that is required in the [Europe Championship] Final as everything starts with the airport [where guests need relevant reception] besides it is also important for more hotels to be built," Platini explained welcoming Tbilisi's interest in holding high-level events in the capital.
Having heard Platini's recommendations, Mayor of Tbilisi Gigi Ugulava said Tbilisi City Hall will consider all the issues and continue intensive working activities in all areas. "There were three main issues raised by Platini which are airport safety, more hotels and relevant stadiums, which would enable Tbilisi to host the sports event," Ugulava stated. Creating of sports arenas and improvement of the airport can be easily dealt with, according to the Mayor, while the issue of hotels seems to be more complicated. "Lots of things have been done in Tbilisi in this direction – lots of hotels have been built, but there is still much to be done," he added.
"Projects aimed at developing the sports infrastructure financed by UEFA will continue. The chances for arranging the Europe Cup Final in Tbilisi is quite realistic if we follow UEFA's directions," Minister of Sports and Youth Affairs, Lado Vardzelashvili told the media. "Georgia is with you!" Zviad Sichinava, President of Georgian Football Federation told the UEFA President presenting him with a special football shirt with Platini's name and thanking him for his visit to Georgia.