Armenians Study English in Georgia
Thursday, August 12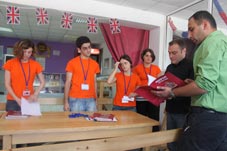 Armenian adults and school children arrived in Georgia as part of the framework of the English Language Learning Strengthening Program of Buckswood Summer School.
20 adults from the Republic of Armenia who were invited by the Minister of Education and Science of Georgia, Dimitri Shashkin arrived in Tbilisi on August 5. They will spend 21 days with Georgian peers at Tskneti English Language Summer School. They will have an intensive course of English and participate in different sports, educational and cultural activities.
As part of the scope of the program, "English Language Summer School in Georgia and English Language Summer School in the United Kingdom", 110 excellent school children from different schools in Georgia are improving their English language knowledge and having a rest. They will be joined by Armenian peers.
Education Ministry officials announced that implementing similar joint exchange programs is very important. These programs help adults to develop friendly relations and become familiar with the history and culture of different countries.
(MES)