Civic Education and Teacher Training Program Launched
Friday, August 13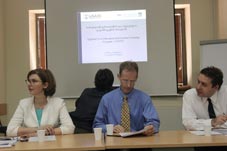 On August 12 a two-day working conference was officially opened at the Consulting and Training Center during which the launch of a Civic Education and Teacher Training Program was announced. USAID Deputy Mission Director, Mr. Joakim Parker, Deputy Minister of Education and Science of Georgia, Ms. Irine Kurdadze and Executive Director of PH International, Ms. Ann Martin greeted the participants at the beginning of the conference.
The Civic Education and Teacher Training three-year program is initiated jointly by USAID and PH International (project "Harmony"). The program is designed to improve the quality of the school program in civic education and assist the youth to advance knowledge, change opinions and behaviour and actively involve them in the development of democratic society.
The program will advance the knowledge and opinions of the youth on democratic principles as well as introduce these principles in the school governance, among the teachers, schoolchildren and broad society.
The Civic Education and Teacher Training Program will be implemented in all regions of Georgia, covering 20% of the country's schools. PH International, together with a group of Georgian experts will assess the civic education teaching program, evaluate textbooks for the 9th to 12th graders and identify the priority fields of civic education that need additional educational materials.
The main aim of the program is to teach school children how to use the theoretical knowledge in practice, get involved in civil life as citizens and be an example for others.
The program will encourage the student leaders and give them the opportunity to undergo training in a summer camp. The program will support the implementation of the particular and creative ideas of the students by a short-term grant program that will finance students' initiatives with 500 US dollars.
The Civic Education and Teacher Training Program will create its own web-site www.civics.ge. It will be the only electronic resource where one can find information on the ongoing initiatives as well as already implemented projects in civic education.