Russia Deploys Anti-Aircraft Missiles in Abkhazia
By Gvantsa Gabekhadze
Friday, August 13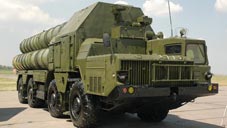 Russia has deployed S-300 anti-aircraft missiles in Georgia's occupied region of Abkhazia. The missile's task is to destroy any kind of flying object; information concerning the issue was confirmed by Russia and de facto Abkhazia as well as by Georgian and foreign officials, on August 11.
"We have deployed the S-300 system on the territory of Abkhazia. Its role will be anti-aircraft defence of the territory of Abkhazia and South Ossetia, in cooperation with the air defence systems of the army. The task of these air defence systems is not only to cover the territory of Abkhazia and South Ossetia but to avert violations of state borders in the air. They are also aimed at the destruction of any flying object penetrating the covered territories, whatever the reason for the flight," Commander-in-Chief of the Russian Federation air force, General Alexander Zelin said.
So called Prime Minister of Abkhazia, Sergey Shamba stressed the purely defensive role of the system, "Anti aircraft missiles have been deployed on our territory in the framework of Russian-Abkhazian military collaboration. This is a defensive system and not offensive," Shamba said.
The Georgian side has called the act unacceptable, one more violation of the cease-fire agreement and confirmation that Russia is interested only in the de-facto territories and not in the people living there, "Obviously, such an act is one more violation of the Sarkozy-mediated six-point ceasefire agreement. If we take into consideration the specifics of this weapon, of course, it is inappropriate against Georgia in view of even theoretical threats because the S-300 is a long range missile. It makes us suppose that this step has been taken to change the balance of forces in the region. It emphasises once again that Russia does not care about the fates of the Abkhazian and South Ossetian people. They need territories to demonstrate their force in this region and primarily, it is NATO that should be concerned about it," Georgia's State Minister for Reintegration, Temur Iakobashvili, stated.
Eka Tkeshelashvili, secretary of the Georgian National Security Council, said that this move once again showed Russia's true self, "With this act Russia one more time confirmed that it is an occupying country; it does not withdraw its troops from the territory of Georgia, rather it further reinforces its military control in these regions and Russia makes no secret of it. Hence, such an action and statement is nothing but a demonstration of the blatant, vivid occupation conducted by Russia in these two regions," Tkeshelashvili said.
The United States also responded to the act; however the deployment of such systems on the de facto Abkhazia's territory is not news to them, "I believe it's our understanding that Russia has had S-300 missiles in Abkhazia for the past two years. I don't know that that report is necessarily true. There have been systems in Abkhazia for two years. We can't confirm whether they have added to those systems or not. So we will look into that. But just this by itself is not necessarily a new development. That system has been in place for some time," US Assistant State Secretary, Philip J. Crowley said.
According to military analyst Irakli Sesiashvili, this is the sign that Russia does not intend to leave Georgia's occupied regions. "The S-300 is one of the most modern systems in today's Russian armament. Russia is strengthening its positions in the de facto regions, which is a sign that de-occupation of those territories is not part of its plans. This can be considered a very negative point for us, as well as for the west," Sesiashvili stated.
Analyst in conflict issues, Paata Zakareishvili told
The Messenger
, "The deployment of such a serious defensive system on Georgian territory should not be considered a problem just for Georgia; that system is intended mainly as a threat for NATO, United States, Turkey and for some other countries. It is an international problem. I am sure that Russia has no intention to leave those occupied regions, as it needs the territories. Deployment of its military systems in the South Caucasus is extremely important for Russia; with these systems Russia will show the whole world that it has defensive mechanisms not just within its own territory, but outside, close to its opponents' borders. Following Eduard Shevardnadze's rule in Georgia we achieved the withdrawal of Russian bases from our territory. Now as a result of our short sighted political steps, we have allowed Russia to gain better locations in the South Caucasus region."