Presentation of constitutional changes at Ilia State University
Monday, August 16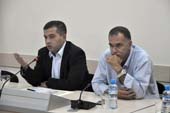 Public consideration of the constitutional changes continues. The Chairman of the Parliament of Georgia, David Bakradze presented the supreme Draft Law of the country to students and lecturers of Ilia State University.
The Chairman of the Parliament, who is simultaneously the head of the Organisational Commission for Public Consideration of the Draft Constitution, gave a detailed introduction to the audience on the areas of the draft constitution which are new to the supreme law. As he explained, the draft constitution is a mixed model, including the various parliamentary components. All three governmental branches – the institute of the President, the Government and the Parliament, are balanced in the new constitution. The Georgian model shares the basic approaches of the German constitution, such as the term-less appointment of judges and staffing of the Parliament by the Government.
Bakradze spoke in detail about the new model of governmental staffing and pointed out that under the new model, political parties shall be directly authorised to staff the Government. "The political party, winning the Parliamentary Elections and with majority representation, shall appoint the Prime Minister, who further shall appoint ministers for his cabinet. The President is not part of this process, but if the Parliament is not able to form a majority coalition and the Government, then the President shall be authorized to dismiss Parliament and declare new elections," - the Chairman of the Parliament explained. He went on to say the new constitution will help create a political stable environment in the country, which will lead directly to economical stability and development.
Opposition party representatives participated in the question-answer session that followed the presentation of the draft constitution. Students of the university were interested in the rules of appointing judges and the assessment of the government in crisis in the country. They also expressed their own views and opinions.
To conclude, the Chairman of the Parliament summed up the results and noted that the highly professional opinions and proposals expressed by the students and academics will definitely be shared by the Commission and reflected in the new Constitution. He stated that the Commission plans to hold meetings with the national minorities, opposition parties and NGOs.
Meetings for public consideration of the constitutional changes have also been held for people in other regions of Georgia.