Moscow slams US report on Terrorism on Georgia
By Etuna Tsotniashvili
Monday, August 16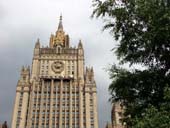 US State Department report on terrorism for 2009 published on August 5 has become a matter of concern for Russia, which stated that state department report is biased towards the Caucasus.
"The report portrays Georgia as a truly exemplary fighter against terrorism. It ignores available information that Georgia is playing a double game in respect to the terrorist underground in the North Caucasus. Russian special services have provided convincing evidence of that and objective observers have been aware of it for a long time," the Russian Foreign Ministry said on August 13.
Representatives of Sergey Lavrov's office also express their concern that the absence of Georgian control of Abkhazia and South Ossetia allows an unlimited and uncontrollable flow of people, goods and other potentially dangerous cargo through the boundaries. "If with this review U.S. is trying to accuse Russia of terrorism, then there is an evident politicisation of the struggle against new challenges," their statement reads.
The State Department report on Georgia says that the situation in the separatist regions of Abkhazia and South Ossetia remain largely unchanged, and the Georgian government does not control its international borders located between these regions and Russia.
"This lack of control allows for an unrestricted and unidentified flow of people, goods, and other potentially dangerous items from Russia into Abkhazia and South Ossetia. The administrative boundary lines between Georgia and the conflict zones were furthered militarized in 2009 when Russia tasked its Federal Security Service (FSB) border guards to take over control from the de-facto authorities in both territories. Movement over these boundary lines was strictly controlled, although formal customs checks, security inspections, or other counter-terrorism procedures did not exist," the State Department report reads.
The statement mentions Russia's claims that Georgia supports Chechen terrorists in the Pankisi Gorge and states that these claims "were unsubstantiated, and the Georgian government has made transparent efforts to prove this to the international community."
The report also talks about anti-corruption reforms carried out by Georgian government stating that the Georgian government's priority still remains the prevention of the smuggling of contraband such as laundered money, drugs, and weaponry that could support terrorism.
Finally, the report also points out Georgia's contribution to the fight against terrorism as approximately 750 troops will be trained by the United States in preparation for a deployment as part of the International Security Assistance Force (ISAF) in Afghanistan. "This is in addition to 173 Georgian troops already serving as part of ISAF with the French and one service member serving with Turkish forces. Additionally, Georgia has granted blanket flight clearance for all U.S. military aircraft engaged in operations in Afghanistan and Iraq," the report says.